Artist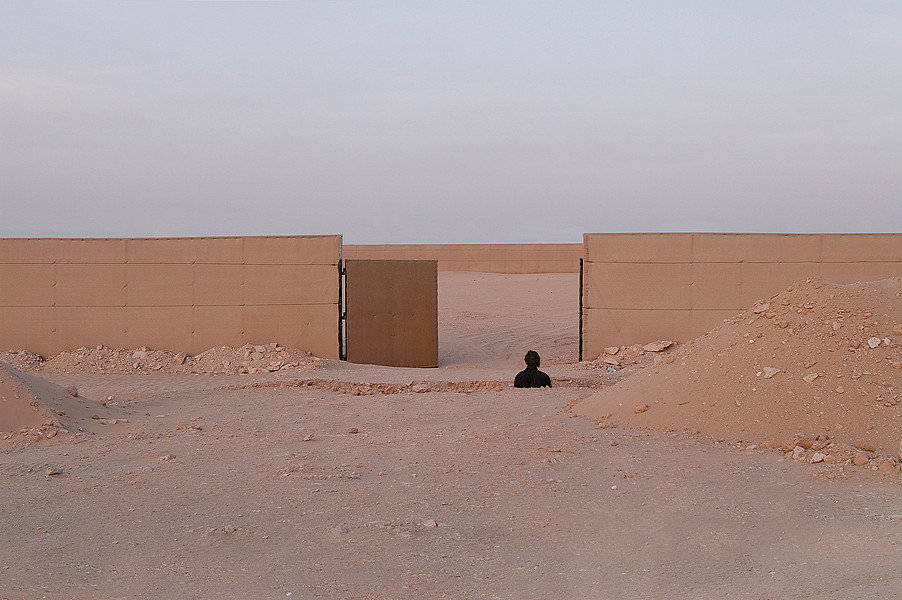 Tarek Al-Ghoussein
Untitled 5
Artist
Tarek Al-Ghoussein b. 1962, Kuwait
Title
Untitled 5
Date
Medium
Inkjet print
Dimensions
image: 21 15/16 x 32 7/16 inches (55.7 x 82.4 cm); sheet: 29 1/2 x 40 3/8 inches (74.9 x 102.6 cm)
Edition
edition 1/6
Credit Line
Solomon R. Guggenheim Museum, New York Purchased with funds contributed by the Photography Committee, 2009
Accession
2009.58
Copyright
2008 Tarek Al-Ghoussein
A Palestinian-Kuwaiti who has never been to his Palestinian homeland, Tarek Al-Ghoussein situates himself as a protagonist struggling with his surroundings in his series Self Portrait (2002–03), A Series (2003–04), B Series (2005–06), C Series (2007), and D Series (2008), as well as his recent projects D2 Series (2009) and E Series (2010). Intentionally borrowing from the Greek myth of Sisyphus, a figure condemned to repeatedly and eternally pushing a boulder up a mountain, the artist alludes to the mythical character's frustratingly cyclical existence and the underlying need for a call to revolt that he inspires. By extension, the figure of the Palestinian, whose news-media depiction during the Palestinian Intifada often included images of protests and rock throwing, is caught in a similar uphill battle, struggling for revolution. The fraught layers of resistance, longing, and belonging are reflected in the figure's physical and psychological relation to the landscape and environment. The land becomes the self-portrait of a complicated identity and history.
Al-Ghoussein is influenced by the New Topographic movement in photography, led by Robert Adams and Frank Gohlke, and he experiments with the idea of the staging and theatricality of nothingness. As a way of negotiating identity in his photographic series, Al-Ghoussein draws out this "nothing" with landforms and physical obstacles, situating the figure as an interruption in the overall composition. The A Series and B Series feature the artist in different locations, approaching or standing near some sort of barrier—a construction inspired in part by the erection of the West Bank Wall. With the C Series, the artist introduced a blue tarp that stands in for the illusive home or shelter. Al-Ghoussein shows himself dragging the tarp or covered by it in almost tentlike formations. It becomes the dominant element in the composition, with the figure barely present as the artist is subsumed by the vastness of his surroundings. These series address the impermanence and transience of a nomadic, diasporic life—the displacement and isolation of the figure in the landscape suggesting the individual's personal Sisyphean struggle to understand his or her relationship to the environment and world.
In Untitled 5 (from D Series, 2008), the tarp is gone; only the head and shoulders of the figure are visible, and he appears to be standing in a trench. Piles of sand next to the hole suggest that it was recently dug. Through an open gate and beyond two sets of walls, the utility poles and treetops of a city or village are visible. Despite the call of what lies ahead, the figure remains immobile, submerged in the landscape, his gaze imperceptible to the viewer. In Untitled 5, the figure has been mapped and displaced, fixed in place in the trench. This photograph, as well as others in the series, are mournful meditations on the barriers, both physical and abstract, that prevent the artist from returning to his homeland.
Reem Fadda