Artist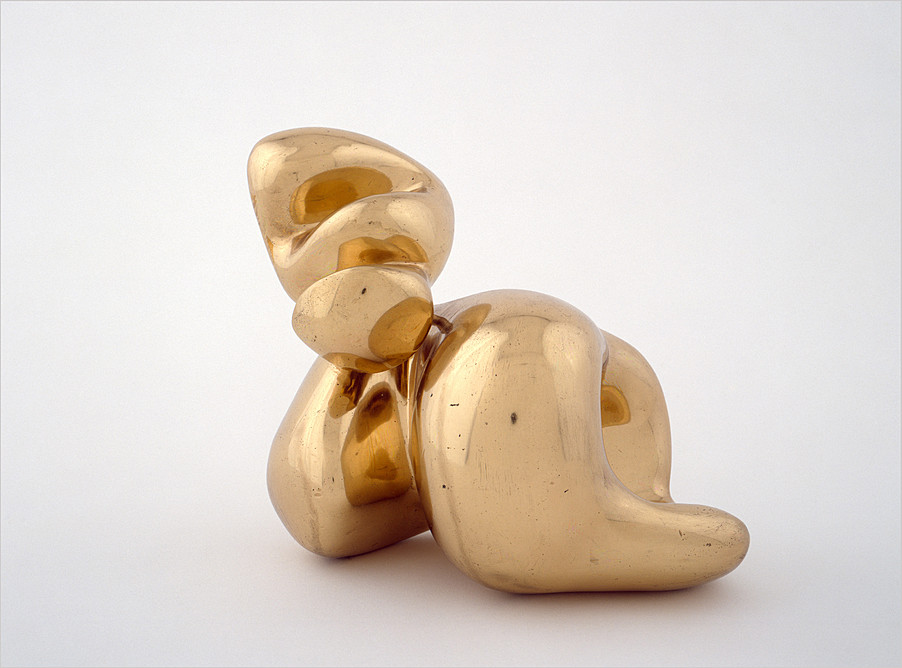 Jean Arp
Head and Shell (Tête et coquille)
Artist
Jean Arp b. 1886, Strassburg, Germany; d. 1966, Basel
Title
Head and Shell (Tête et coquille)
Date
Medium
Polished brass
Dimensions
7 1/4 x 7 7/8 inches (19.7 x 22.5 cm)
Credit Line
The Solomon R. Guggenheim Foundation Peggy Guggenheim Collection, Venice, 1976
Accession
76.2553.54
Copyright
2016 Artists Rights Society (ARS), New York/VG Bild-Kunst, Bonn. Photo: David Heald © SRGF
Artwork Type
Movement
Jean Arp's transition from his painted wooden wall reliefs of the 1920s to his freestanding sculpture of the 1930s occurred about 1930. At this time he executed some freestanding reliefs, which rested either on carved bases or directly on the ground (for example, Shell Profiles [Profils coquilles] of 1930). Biomorphic elements like those attached to the wall reliefs gradually separated into independent forms and assumed positions in fully three dimensional ensembles, such as Bell and Navels (Cloche et nombrils, 1931). When, in 1931, Arp began sculpting wood and modeling plaster in the round, he made figurative torsos. He next embarked on a series of abstract forms called Human Concretions (Concrétion humaine, 1933–36), usually carved in plaster and some later cast in bronze. These sculptures, such as Human Concretion (1934), suggest general processes of growth, crystallization, and metamorphosis, rather than specific motifs drawn from nature. The present sculpture shares the bulbous, protuberant character of the Concretions, its curved and coiled base expressing the spontaneous energy of pullulation.
Head and Shell, (Tête et coquille), however, is not one continuous form but two separable elements. A spike attached to the base section supports the upper portion, which may easily be removed. Both conceptually and physically, this work is a unit composed of discrete parts. The object's small size and its partite nature suggest that Arp intended the original plaster version to be handled. During the 1930s, the artist produced several small works made of multiple elements that the viewer could pick up, separate, and rearrange into new configurations. Peggy Guggenheim's fascination with this cast of the plaster original arose from her delight in handling the small sculpture.1
Arpvïs titles, such as Head and Shell or Metamorphosis: Shell-Swan-Swing (Métamorphose, coquille-cygne-balance-toi), suggest counterparts in nature for his ambiguous organic forms. Such titles should not be considered too literally, however, as they were no doubt inspired by the completed sculptures. As Arp explained his working process, "Each of these bodies has a definite significance, but it is only when I feel there is nothing more to change that I decide what each means, and it is only then that I give it a name."2
Elizabeth C. Childs
1. P. Guggenheim, Out of This Century: Confessions of an Art Addict, New York, 1979, p. 162.
2. J. Arp, "Germe d'une Nouvelle Sculpture," Jours effeuillés. Poèmes, essais, souvenirs. 1920–1965, Paris, 1966, p. 323. Author's translation.