Artist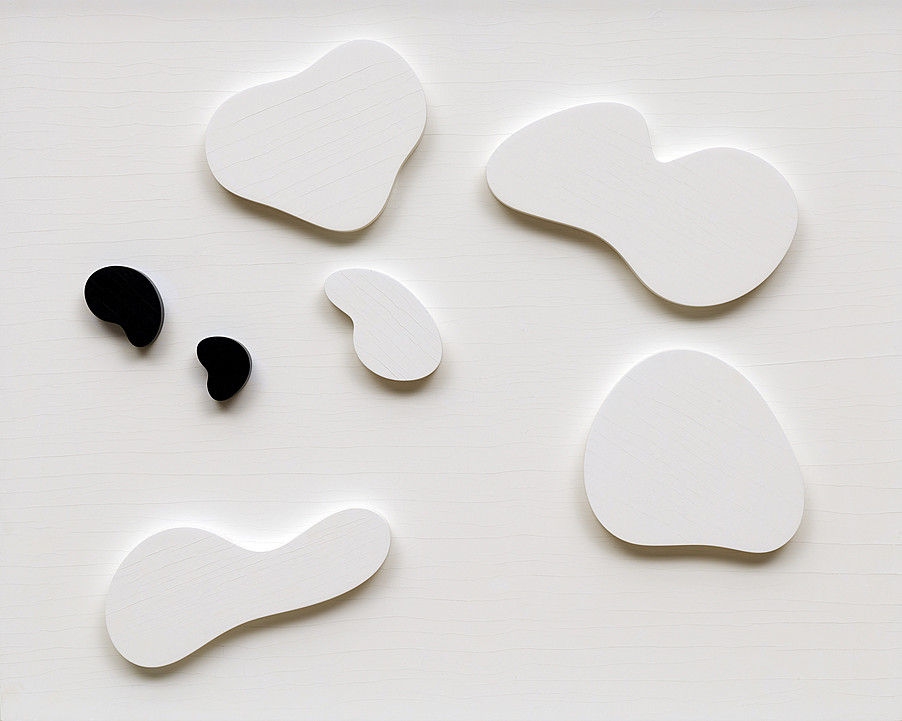 Jean Arp
Constellation with Five White Forms and Two Black, Variation III (Constellation aux cinq formes blanches et deux noires, variation III)
Artist
Jean Arp b. 1886, Strassburg, Germany; d. 1966, Basel
Title
Constellation with Five White Forms and Two Black, Variation III (Constellation aux cinq formes blanches et deux noires, variation III)
Date
Medium
Oil on wood
Dimensions
23 5/8 x 29 5/8 inches (60 x 75.5 cm)
Credit Line
Solomon R. Guggenheim Museum, New York
Accession
55.1437
Copyright
2016 Artists Rights Society (ARS), New York/VG Bild-Kunst, Bonn
Artwork Type
Movement
As a founding member of Dada, Jean Arp was among those artists who espoused a rejection of traditional bourgeois values and taste. Arp's response to illusionistic art, which he saw as a bogus reproduction of reality, was to create an abstract art that would ultimately be a truer indication of reality because its generative principles would echo nature's. His method included the expression of chance, informed by the Dadaists' desire for liberation from so-called rationality. For Arp, chance also represented a fundamental law of the organic realm, and his first reliefs, made during the war, are colorful and witty evocations of plant and animal forms on layered wooden panels.
In the early 1930s Arp developed the principle of the "constellation," employing it in both his writings and artworks. As applied to poetry, the principle involved using a fixed group of words and focusing on the various ways of combining them, a technique that he compared to "the inconceivable multiplicity with which nature arranges a flower species in a field."1 In making his Constellation reliefs, Arp would first identify a theme—for example, five white biomorphic shapes and two smaller black ones on a white ground—then recombine these elements into different configurations. Constellation with Five White Forms and Two Black, Variation III is the last of three versions of this theme. Rather than doggedly copying nature, Arp's variations are poetic evocations of the metamorphosis and change inherent to the cycle of life.
While Arp worked on his reliefs through the 1920s and early 1930s he was actively engaged with both Surrealism and the approach to pure abstraction associated with Neo-Plasticism. Membership in these movements was usually mutually exclusive, but Arp's diplomacy enabled him to maintain contact with both. His work, like Joan Miró's, engaged Surrealism at the level of process, for he used automatist strategies to get beyond the constrictions of rational thought. Yet, like Piet Mondrian, he believed in the Neoplatonic goal of representing a higher plane of reality through abstraction.
Jennifer Blessing
1. As quoted in Jean Arp, Jane Hancock, Stefanie Pole, Arp, 1886-1966 (Cambridge, U.K.: Cambridge University Press, 1987) p. 112.