Artist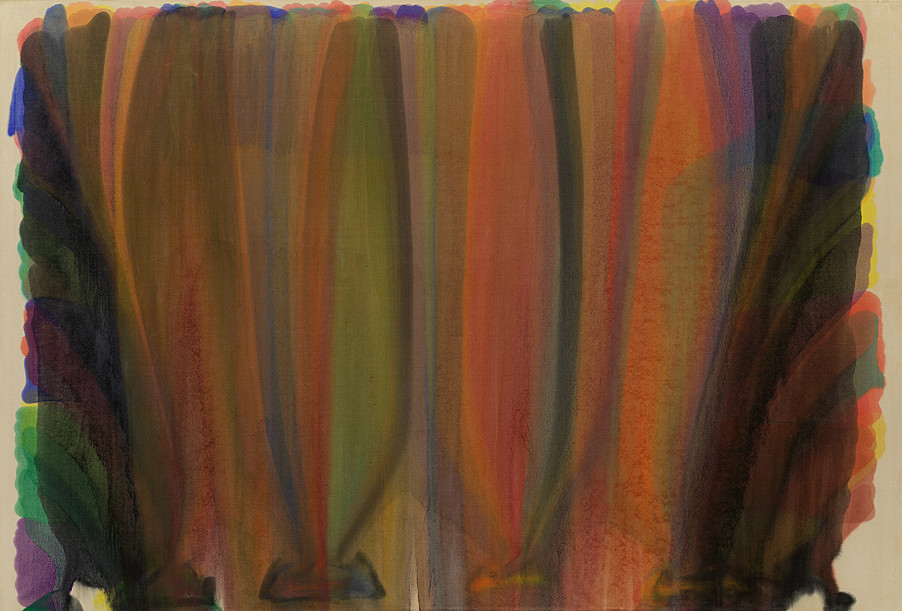 Morris Louis
Saraband
Artist
Morris Louis b. 1912, Baltimore; d. 1962, Washington, D.C.
Title
Saraband
Date
Medium
Acrylic resin on canvas
Dimensions
8 feet 5 1/8 inches x 12 feet 5 inches (256.9 x 378.5 cm)
Credit Line
Solomon R. Guggenheim Museum, New York
Accession
64.1685
Copyright
Morris Louis
Artwork Type
Movement
In 1953 Morris Louis visited the studio of Helen Frankenthaler, where he saw Mountains and Sea (1952), the first painting made with her signature "soak-stain" technique. This method of collapsing color into canvas by manipulating thinned acrylic washes into the unprimed cotton fabric had an immediate impact on Louis, who would translate it into his own idiom in a series of poured paintings created by gravity-pulled streams of luminescent color. These works, which he referred to as Veils, established Louis's mature style and aligned his work with that of other Color Field painters, such as Barnett Newman, Mark Rothko, and Clyfford Still at a moment when, for the first time since Impressionism, pure opticality held primacy over content and form.
The Veils cannot be traced to an objective referent, and it is this removal of any concrete figural source that allowed Louis to concentrate entirely on the visual. By handling paint as a dye that penetrates the fibers of the canvas rather than as a topical layer brushed over it, he made figure and ground one and the same, uniting them through color. Furthermore, his pouring technique eliminated the gestural stroke that had been central to Abstract Expressionism, as in Jackson Pollock's signature drip or Willem de Kooning's frenetic brushwork, allowing the velvety saturated canvas to radiate color in uninflected expanses paced only by the chromatic rhythm of vertical bands.
Some debate has surrounded the orientation of Louis's Veils, and this is true of the Guggenheim work in particular. Most of the Veils are hung in accordance with the way Louis made them, with a blank margin above where the pigment began its course down the canvas. According to critic Clement Greenberg, however, the artist was willing to experiment with inverted hangings and was loath to prescribe a particular orientation to a picture by signing it. Saraband's lengths of color, poured from the top as well as from the sides of the canvas, have been flipped on end, moving the pools of collected pigment to the top of the painting and reversing the gravitational flow. A faint, tentative signature in the bottom left corner of the painting has always served to guide its "upside-down" hanging, although several of Louis's closest contacts believe he preferred it the other way and was encouraged to sign it to support the preference of curator William Rubin, who owned the painting at the time it was first exhibited in 1960.
Bridget Alsdorf