Artist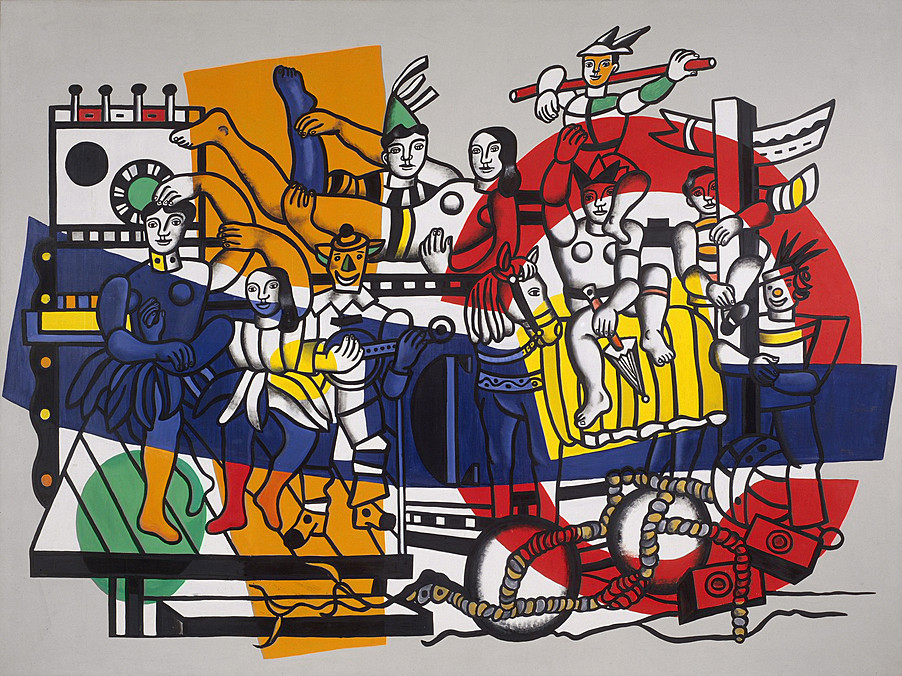 Fernand Léger
The Great Parade (definitive state) (La grande parade [état définitif])
Artist
Fernand Léger b. 1881, Argentan, Normandy, France; d. 1955, Gif-sur-Yvette, France
Title
The Great Parade (definitive state) (La grande parade [état définitif])
Date
Medium
Oil on canvas
Dimensions
9 feet 9 3/4 inches x 13 feet 1 1/2 inches (299.1 x 400.1 cm)
Credit Line
Solomon R. Guggenheim Museum, New York
Accession
62.1619
Copyright
2016 Artists Rights Society (ARS), New York/ADAGP, Paris
Artwork Type
Movement
Fernand Léger's use of streamlined forms derived from mechanical imagery dates from World War I, when he served in the French army. His predilection for military hardware and its gleaming surfaces coincided with his feelings of solidarity with the foot soldiers surrounding him in the trenches. The machine aesthetic he adopted at this time reflected his hopes of creating a truly popular art form that would describe and inspire modern life. After the war, he turned away from the experiments with pure abstraction that characterized his earlier work and infused social meaning into his art; quasi-representational motifs emerged in lively paintings depicting soldiers, factory workers, bargemen, and pulsating urban environments. In works such as The City of 1919 and The Mechanic of 1920, Léger incorporated elements of Cubist fragmentation into his new pristine, mechanical syntax to evoke the energy of contemporary experience.
As a call to order resounded throughout postwar French society, Léger introduced the monumental, classical figure into his art. The absolute calm and stasis of Woman Holding a Vase demonstrates his affinities with the neo-antique depictions of women by his contemporaries Pablo Picasso and Gino Severini. It also shows Léger's sympathies with the Purist ideals of Amedée Ozenfant and Le Corbusier, who called for a revival of classical aesthetic consonance as a symbol of renewed social harmony. Léger's palette of blue, yellow, red, and black is indebted to Piet Mondrian's concurrent De Stijl paintings, further evincing Léger's identification with utopian and reconstructivist ideals of the 1920s and 1930s.
The result of over one hundred preparatory studies dating from as early as 1947, The Great Parade is a defining work within the artist's oeuvre. The joyful parade motif evolved out of several preceding themes in Léger's oeuvre—including cyclists, country outings, and the circus—that celebrated the leisure activities of the working class. The circus in particular is an accessible arena in which all spectators are equal, brought together in their delight over the clowns, trapeze artists, and animal acts. In this mural-size canvas—conceived on a scale appropriate to mass viewing—the interlocking figures perform their inspired feats along a horizontal swathe of blue, which is punctuated by a large red C for cirque. The final version of The Great Parade, painted one year before the artist's death, is the culmination of his career-long endeavor to both represent and reach a public beyond the small circle of connoisseurs familiar with fine art.
Nancy Spector