Artist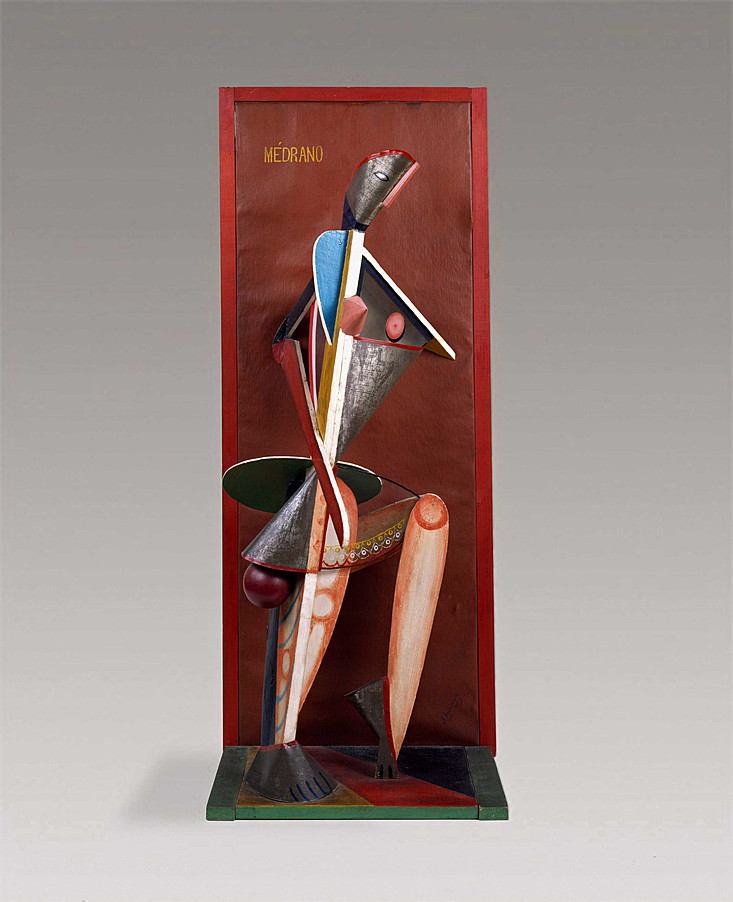 Alexander Archipenko
Médrano II
Artist
Alexander Archipenko b. 1887, Kiev; d. 1964, New York City
Title
Médrano II
Date
Medium
Painted tin, wood, glass, and painted oilcloth
Dimensions
49 7/8 x 20 1/4 x 12 1/2 inches (126.6 x 51.5 x 31.7 cm)
Credit Line
Solomon R. Guggenheim Museum, New York
Accession
56.1445
Copyright
2016 Estate of Alexander Archipenko/Artists Rights Society (ARS), New York
Artwork Type
Movement
No doubt it was a sense of pride and more than an inkling of historical place that prompted the young Alexander Archipenko to inscribe these two works with his name and "1913 Paris." Soon after arriving in Paris at the age of 20, the Ukrainian artist could claim membership in the prestigious Section d'Or group, putting him in the company of the Duchamp brothers, Pablo Picasso, and Guillaume Apollinaire. Carrousel Pierrot (1913) and Médrano II (1913–14) are souvenirs of this heady time.
None of Archipenko's colleagues would have missed the allusions in these works to the Cirque Médrano (which many artists frequented), the vogue for puppetry, or the jesters in Picasso's paintings. Harlequins and saltimbanques were traditional stand-ins for the artistic persona; they also offered a unique package of shapes and colors for formal resolution.
Carrousel Pierrot fits into Archipenko's lifelong fascination with the possibilities of polychromy and the abstract figure in the round. Reminiscing about the origin of Carrousel Pierrot, Archipenko later recalled that he was inspired by a festival where "dozens of carrousels with horses, swings, gondolas and airplanes imitate the rotation of the earth." Médrano II is almost anomalous within Archipenko's oeuvre. Although it relates to the later "sculpto-paintings" for its crossover between two disciplines, the work is the only extant example of the theme of a figure in motion, with which Archipenko experimented in two other works—Médrano I (Juggler), 1912, and Woman in Front of Mirror (Femme à la toilette, 1913), both destroyed. In this investigation, he was keeping pace with Marcel Duchamp, who had explored this theme in his 1912 painting Nude Descending a Staircase (Nu descendant un escalier). Also aware of the advances of Synthetic Cubism, Archipenko incorporated reflective glass, wood, and metal into Médrano II. In two early poems, Archipenko's friend and supporter Apollinaire had featured saltimbanques and a protagonist named Columbine, who "disrobes and / Admires her reflection in the pool."1. Perhaps this was the inspiration for the dancer in Médrano II, who seems to gaze at her own image in a mirror.
Cornelia Lauf
1. Guillaume Apollinaire, "Twilight," in Alcools (Berkeley and Los Angeles: University of California Press, 1966)