Artist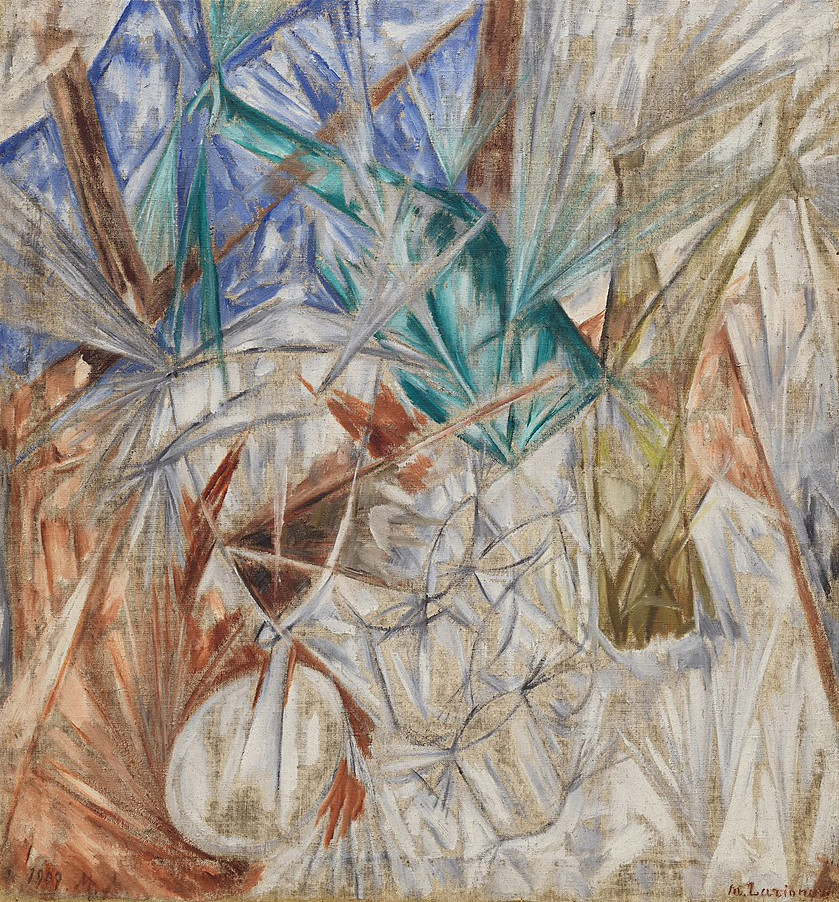 Mikhail Larionov
Glass (Steklo)
Artist
Mikhail Larionov b. 1881, Tiraspol, Moldova; d. 1964, Fontenay-aux-Roses, France
Title
Glass (Steklo)
Date
1912 (dated 1909 by the artist)
Medium
Oil on canvas
Dimensions
41 x 38 1/4 inches (104.1 x 97.1 cm)
Credit Line
Solomon R. Guggenheim Museum, New York
Accession
53.1362
Copyright
2016 Artists Rights Society (ARS), New York / ADAGP, Paris
Artwork Type
Mikhail Larionov was not only a painter but also an organizer of exhibitions, a stylistic innovator, and the author of three Rayist manifestos. Rayism was a short-lived movement invented by Larionov, who along with his companion Natalia Goncharova, were its primary practitioners. Glass (Steklo, 1912) and other Rayist works first appeared in the exhibition Mir iskusstva (World of Art), which opened in Moscow in December 1912 and traveled to St. Petersburg and Kiev in 1913. In 1913, Larionov published a essay entitled "Luchistskaya zhivopis" ("Rayist Painting") in which he outlined his theories—based on ideas about vision and perception—for painting "the sum of rays reflected from the object."¹ In his conceptualization, Rayist painting, by capturing the play of light on its subject, mimics the act of seeing: "Rayism erases the barriers that exist between the picture's surface and nature." Translating light rays into echoing lines of color, Rayism shares Cubism's analysis of form, Futurism's emphasis on dynamism, and Orphism's exploration of optic principles.
Larionov considered Glass to have been his first fully Rayist work. The 1909 date inscribed on the surface of this canvas is thought to have been added by the artist in 1914 when the work was brought to Paris for exhibition. The work depicts five tumblers, a goblet, and two bottles such that their essential forms are retained, and lines and vectors of color represent light refracted by the surface of these vessels. The Russian title, Steklo (glass), refers to the substance glass, rather than to glass as an individual object made from it. As early as 1913, a reviewer of Larionov's and Goncharova's work observed that Larionov was not painting a still life but "simply 'glass' as a universal condition of glass with all its manifestations and properties—fragility, ease in breaking, sharpness, transparency, brittleness, ability to make sounds, i.e., the sum of all the sensations, obtainable from glass."
1. Mikhail Larionov, "Rayonist Painting" (1913), in Russian Art of the Avant–Garde: Theory and Criticism, 1902–1934, ed. John E. Bowlt (New York: Thames and Hudson, 1988), p. 98.
2. Ibid., p. 99.
3. Eli Eganbyuri [Ilia Zdanevich], "Glass (Concentration of Impressions and Rayonism)," in Natalia Goncharova, Mikhail Larionov, ed. Myunster, trans. S. Bodine (Moscow: 1913), p. 38–39. (Russian)