Artist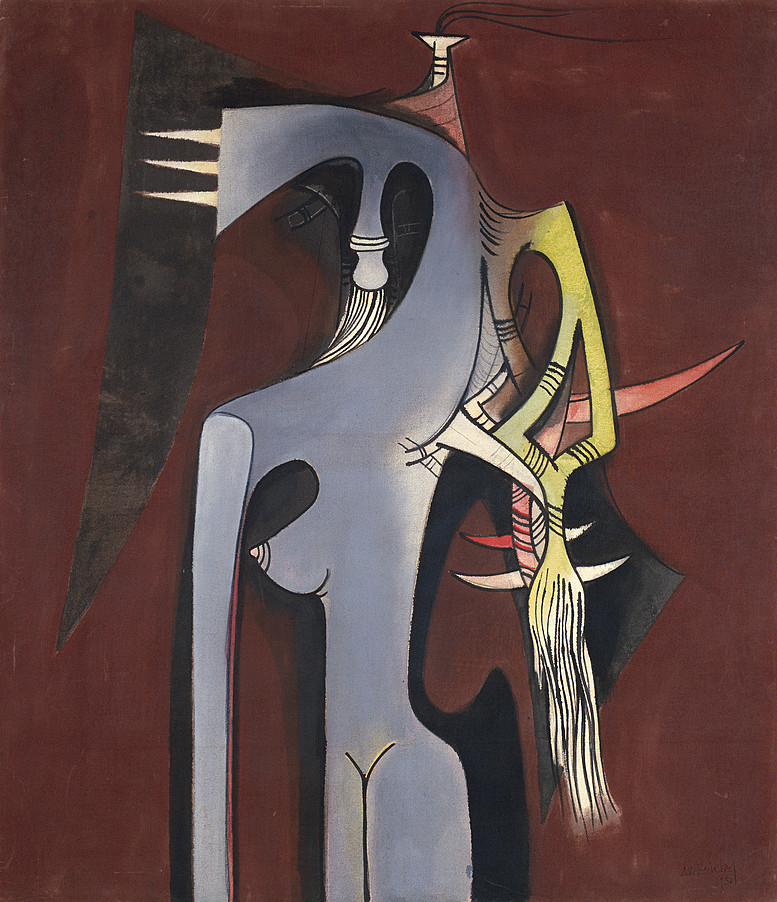 Wifredo Lam
Zambezia, Zambezia
Artist
Wifredo Lam b. 1902, Sagua La Grande, Cuba; d. 1982, Paris
Title
Zambezia, Zambezia
Date
Medium
Oil on canvas
Dimensions
49 3/8 x 43 5/8 inches (125.4 x 110.8 cm)
Credit Line
Solomon R. Guggenheim Museum, New York Gift, Mr. Joseph Cantor, 1974
Accession
74.2095
Copyright
2016 Artists Rights Society (ARS), New York/ADAGP, Paris
Artwork Type
Movement
When Wifredo Lam arrived in Paris in 1938 he carried a letter of introduction to Pablo Picasso, with whom he had an immediate rapport. Soon he met many other leading artistic figures, among them André Breton, the dominant publicist and theorist of Surrealism. The Surrealists, who attempted to unleash the power of the unconscious through explorations of dream states and automatist writing, were fascinated by the mythologies of "primitive" people. They subscribed to an anthropology that perceived modern "primitive" cultures as the heirs to an integrated understanding of myth and reality, which they hoped to achieve themselves. Lam, as a Cuban of African, Chinese, and European descent, seemed to the Surrealists to have privileged access to that undifferentiated state of mind. In 1942 the artist returned to Cuba, where he constructed a body of work in a Surrealist idiom, creating symbolic creatures engaged in ritual acts of initiation. Lam's vocabulary of vegetal-animal forms was inspired by Afro-Cuban and Haitian Santeria deities. He also associated with the nationalist poets of the Négritude movement, who relied in their work on the images and rhythms of their native culture.
Rumblings of the Earth represents a synthesis of Lam's concerns in his work of the 1940s. This painting melds his reaction to the European artistic legacy with his own goals and the indigenous traditions of his country. Here, Lam referred to Picasso's 1937 Guernica through direct quotations and more abstract correspondences, but he transformed Picasso's political statement by replacing the central victim of Guernica, the horse, with a spectral presence bearing a large knife, described by Lam as "the instrument of integrity." An aggressive painting, Rumblings of the Earth includes vaginal and phallic references that focus the work thematically on the cycle of birth and death while suggesting ritual initiation and violence. For Lam, revolutionary violence was a means of liberation; in his hands, the victim in Picasso's canvas has become the aggressor.
In Zambezia, Zambezia Lam depicted an iconic woman partly inspired by the femme-cheval (horse-headed woman) of the Santeria cult. He frequently used the device of transmogrification of body parts to suggest magical metamorphosis, inspired by indigenous American and African ritual objects. In this painting it is manifested in the testicle "chin" of the figure.
Jennifer Blessing