Artist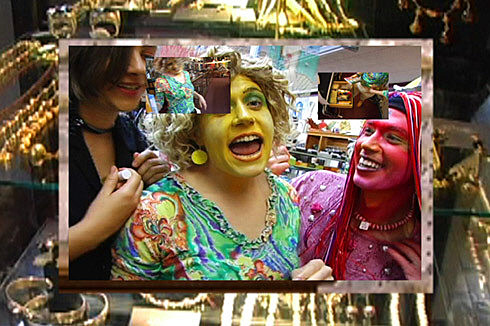 Ryan Trecartin
I-Be Area
Artist
Ryan Trecartin b. 1981, Webster, Texas
Title
I-Be Area
Date
Medium
Digital color video, with sound, 128 min.
Dimensions
dimensions variable
Edition
edition 8/8
Credit Line
Solomon R. Guggenheim Museum, New York Purchased with funds contributed by Dimitris Daskalopoulos and Bill and Charlotte Ford, 2008
Accession
2008.10
Copyright
Ryan Trecartin. I-Be Area will screen in the New Media Theater on Friday, June 5, 12, and 19 at 1 pm.
Artwork Type
The videos of Ryan Trecartin catapult viewers into a hallucinogenic alternate reality in which cybernetic avatars run amok, presenting themselves with gleeful sass as they play out a complex web of melodramatic fictions. I-Be Area (2007), a feature-length promenade through this universe, was written, directed, and edited by Trecartin, who also stars in no fewer than five roles alongside a troupe of friends and collaborators. The work's elusive narrative, which revolves around the clone I-Be II and such cohorts as Jamie, RAmada Omar, and ONxy-Tonyah, is filtered through a distinctive do-it-yourself aesthetic that incorporates ramshackle sets, brightly colored homemade costumes, cheap off-the-shelf video and sound effects, and rapidly edited, jargon-filled dialogue. Through these means Trecartin creates a striking new vision of queer culture in America, wittily updating the carnivalesque style of avant-garde filmmakers like Jack Smith and Kenneth Anger for the era of YouTube and Second Life. Unlike Smith and Anger, however, Trecartin draws his audiences further into his virtual reality through sculptural objects and installations built from his sets, including Jamie's Bedroom (2007), which is also in the collection of the Guggenheim Museum. Over time, it becomes apparent how thin the line separating Trecartin's world from our own truly is.
Nat Trotman