Artist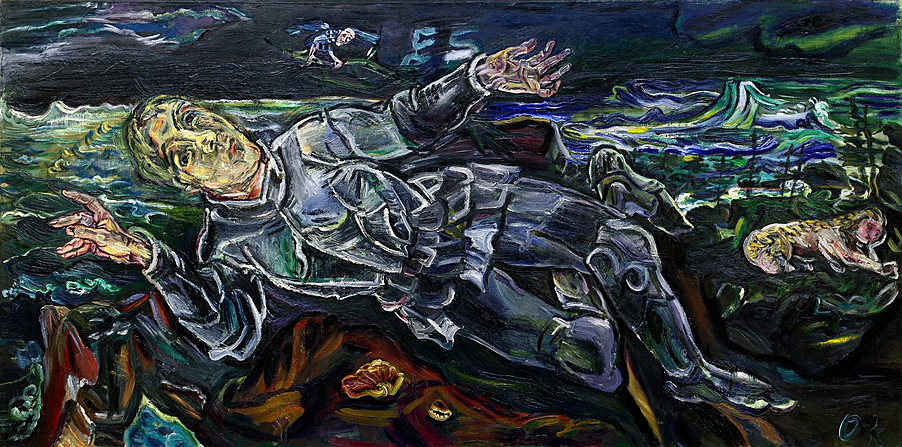 Oskar Kokoschka
Knight Errant (Der irrende Ritter)
Artist
Oskar Kokoschka b. 1886, Pöchlarn, Austria-Hungary (Austria); d. 1980, Montreux, Switzerland
Title
Knight Errant (Der irrende Ritter)
Date
Medium
Oil on canvas
Dimensions
35 1/4 x 70 7/8 inches (89.5 x 180 cm)
Credit Line
Solomon R. Guggenheim Museum, New York Estate of Karl Nierendorf, By purchase
Accession
48.1172.380
Copyright
2016 Fondation Oskar Kokoschka/Artists Rights Society (ARS), New York/ProLitteris, Zürich
Artwork Type
Movement
In the Vienna of 1914, a woman having an abortion was cause for scandal, even within the confines of the relatively open-minded art world. When such a woman was the widow of a famous composer, unwed, and carrying on two love affairs simultaneously, her decision would alarm even the most sympathetic souls. Thus it is that the agonized knight errant of Oskar Kokoschka's painting is to this day read as an expression of the artist's pain over the death of an unborn child and the crumbling of his relationship with the fascinating, and quite unrepentant, Alma Mahler.
The central figure appears to be a self-portrait of Kokoschka, clad in the armor of a medieval knight. He lies errant, or lost, in a stormy landscape, his two attributes—a winged bird-man and a sphinxlike woman—in close proximity. The bird-man has been interpreted either as the figure of death or another self-portrait, while the sphinx-woman has been seen as a stand-in for Mahler. A funereal sky bears the letters "E S," which probably refer to Christ's lament, "Eloi, Eloi, lama sabachthani" ("My God, my God, why hast Thou forsaken me?") As if the self-equivalence with chivalry and the martyred Christ were not enough, the agitated brushwork and disturbing composition convince us of Kokoschka's spiritual discomfort.
If we look at Knight Errant within the context of Austrian art and compare it to the measured and ornate works of Hans Makart or even Gustav Klimt, Kokoschka's radicality emerges clearly. In what was still fin-de-siècle Vienna, Knight Errant was a notable exception for the immediacy of its imagery, which seemed to come more from the realm of psychoanalysis than from contemporary artistic trends. Indeed, Alma Mahler's first husband, Gustav, had consulted Sigmund Freud about his marriage, and the famous couple was apparently versed in psychoanalytic principles. But perhaps Kokoschka was equally influenced by his admiration for Baroque allegorical and literary motifs. Whatever their source, his emotion-charged images stem from a turbulently personal interpretation of Expressionism.
Cornelia Lauf