Artist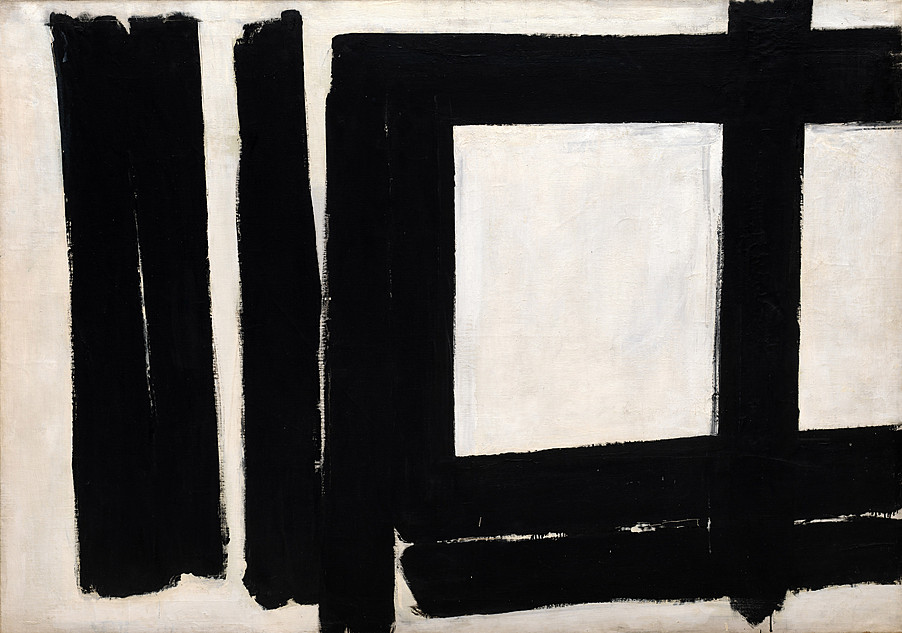 Franz Kline
Painting No. 7
Artist
Franz Kline b. 1910, Wilkes-Barre, Pennsylvania; d. 1962, New York
Title
Painting No. 7
Date
Medium
Oil on canvas
Dimensions
57 1/2 x 81 3/4 inches (146 x 207.6 cm)
Credit Line
Solomon R. Guggenheim Museum, New York
Accession
54.1403
Copyright
2016 The Franz Kline Estate/Artists Rights Society (ARS), New York
Artwork Type
Movement
Throughout the 1940s, while many artists of the nascent New York School were experimenting with Surrealist-inspired biomorphic abstraction, Franz Kline was painting landscapes and portraits. Consequently in 1950, when the artist showed large, gestural abstract paintings in his first solo exhibition, it appeared that he had experienced a wholesale conversion. Much has been made of a 1949 visit he paid to his friend Willem de Kooning, who asked Kline for some of the drawings he always carried in his pockets and projected them onto the wall, monumentalizing details of the sketches. While this episode may have been a catalyst for Kline's mature style, by the end of the 1940s his work was already yielding to a looser application of paint and a more emphatic expressionistic technique.
Kline scored his success in the early 1950s with large canvases onto which he applied black and white commercial paint with housepainter's brushes. He became known as an Action painter because his work expressed movement and energy, emphasizing dynamic line. The characteristic black slashes of Painting No. 7 suggest the full body movement of the artist as he spontaneously applied the paint, incorporating chance splatters and smearing. In fact, Kline's paintings were constructed only to look as if they were painted in a moment of inspiration—they usually resulted from the transfer of a sketch to the canvas.
Unlike de Kooning and Jackson Pollock, Kline never flirted with figuration in his abstract paintings and avoided spatial ambiguity. Painting No. 7 is among the artist's most straightforward statements; it also demonstrates his knowledge of art history. Kline's emphasis on the square in this and other works suggests his interest in Josef Albers and Kazimir Malevich. Art historian Harry Gaugh cites Piet Mondrian's Composition No. 1: Lozenge with Four Lines (1930) as an influence, and also contends that the compositional structure of Painting No. 7 recalls James McNeill Whistler's Arrangement in Gray and Black, No. 1 (1871). Though the similarity between the latter two paintings might appear incidental, Kline referred to Whistler in other paintings, and the austere geometry of Whistler's canvas would have appealed to him.
Jennifer Blessing