Artist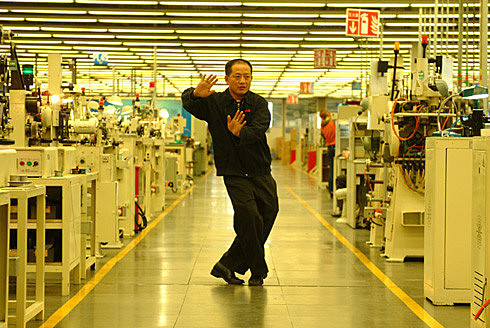 Cao Fei
Whose Utopia
Artist
Cao Fei b. 1978, Guangzhou, China
Title
Whose Utopia
Date
Medium
Color video, with sound, 22 min.
Edition
edition 12/12
Credit Line
Solomon R. Guggenheim Museum, New York Purchased with funds contributed by the International Director's Council and Executive Committee Members: Tiqui Atencio Demirdjian, Christina Baker, Edythe Broad, Janna Bullock, Rita Rovelli Caltagirone, Dimitris Daskalopoulos, Harry David, Caryl Englander, Shirley Fiterman, Laurence Graff, Nicki Harris, Dakis Joannou, Rachel Lehmann, Linda Macklowe, Peter Norton, Tonino Perna, Inga Rubenstein, Simonetta Seragnoli, Cathie Shriro, Ginny Williams, and Elliot K. Wolk, and Sustaining Members: Linda Fischbach, Beatrice Habermann, and Cargill and Donna MacMillan, 2007
Accession
2007.130
Copyright
Cao Fei. Photo: Courtesy Vitamin Creative Space
Artwork Type
Whose Utopia (2006) centers on the lives of workers at the Osram lighting factory in China's Pearl River Delta region, an area outside Hong Kong that is a site of nationwide migration by people seeking expanded work opportunities in the country's blossoming economy. Over the course of six months, Cao Fei filmed daily life at the factory, highlighting the mechanized tasks performed by employees, while also interviewing them about their motivations for working there. Based on their responses, she then collaborated with the workers to develop the performances that comprise the central section of the video. In costumes or street clothes, these anonymous figures dance and play music while other employees, unnoticing, continue to work around them. The poetic, dreamlike vision of individualism within the constraints of industrialization illuminates the otherwise invisible emotions, desires, and dreams that permeate the lives of an entire populace in contemporary Chinese society.
Nat Trotman