Artist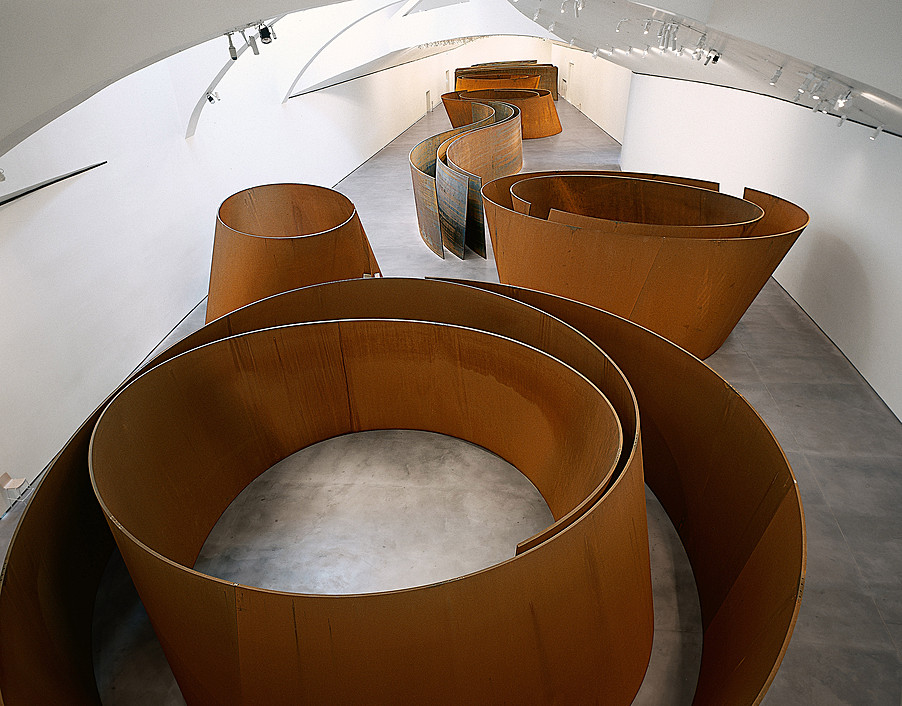 Richard Serra
The Matter of Time
Artist
Richard Serra b. 1938, San Francisco, California
Title
The Matter of Time
Date
Medium
Installation of seven sculptures, weatherproof steel
Dimensions
Varying dimensions
Credit Line
Guggenheim Bilbao Museoa
Accession
GBM1996-2005
Copyright
2016 Richard Serra/Artists Rights Society (ARS), New York
Artwork Type
Richard Serra has long been acclaimed for his challenging and innovative work. As an emerging artist in the early 1960s, Serra helped change the nature of artistic production. Along with the Minimalist artists of his generation, he turned to unconventional, industrial materials and accentuated the physical properties of his work. Freed from the traditional pedestal or base and introduced into the real space of the viewer, sculpture took on a new relationship to the spectator, whose experience of an object became crucial to its meaning. Viewers were encouraged to move around—and sometimes on, in, and through—the work and encounter it from multiple perspectives. Over the years Serra has expanded his spatial and temporal approach to sculpture and has focused primarily on large-scale, site-specific works that create dialogue with a particular architectural, urban, or landscape setting.
Snake, a work made for the inauguration of the Guggenheim Museum Bilbao, consists of three enormous, serpentine ribbons of hot-rolled steel that are permanently installed in the museum's largest gallery. The two tilted, snaking passages capture a rare sense of motion and instability. Snake is now joined by seven commissioned works-creating the installation entitled The Matter of Time—Serra's most complete rumination on the physicality of space and the nature of sculpture.
The Matter of Time enables the spectator to perceive the evolution of the artist's sculpted forms, from his relatively simple double ellipse to the more complex spiral. The final two works in this evolution are built from sections of toruses and spheres to create environments with differing effects on the viewer's movement and perception. Shifting in unexpected ways as viewers walk in and around them, these sculptures create a dizzying, unforgettable sensation of space in motion. The entirety of the room is part of the sculptural field: As with his other multipart sculptures, the artist purposefully organizes the works to move the viewer through them and their surrounding space. The layout of works in the gallery creates passages of space that are distinctly different—narrow and wide, compressed and elongated, modest and towering—and always unanticipated. There is also the progression of time. There is the chronological time it takes to walk through and view The Matter of Time, between the beginning and end of the visit. And there is the experiential time, the fragments of visual and physical memory that linger and recombine and replay.