Artist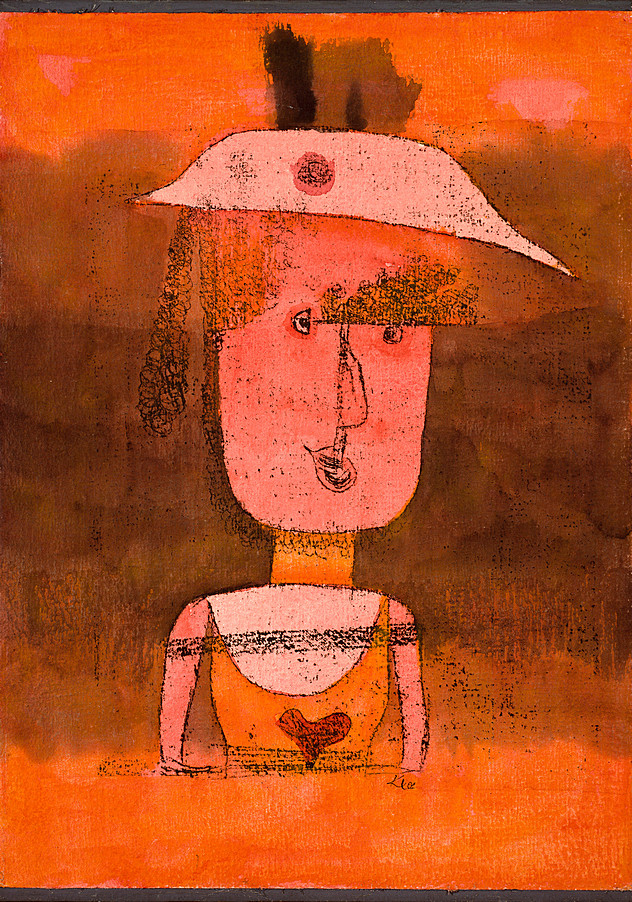 Paul Klee
Portrait of Mrs P. in the South (Bildnis der Frau P. im Süden)
Artist
Paul Klee b. 1879, Münchenbuchsee, Switzerland; d. 1940, Muralto-Locarno, Switzerland
Title
Portrait of Mrs P. in the South (Bildnis der Frau P. im Süden)
Date
Medium
Watercolor and oil transfer drawing on paper, bordered with grey gouache on the pulpboard mount
Dimensions
sheet: 14 3/4 x 10 3/4 inches (37.6 x 27.4 cm); mount: 16 3/4 x 12 1/4 inches (42.5 x 31 cm)
Credit Line
The Solomon R. Guggenheim Foundation Peggy Guggenheim Collection, Venice, 1976
Accession
76.2553.89
Copyright
2016 Artists Rights Society (ARS), New York / VG Bild-Kunst, Bonn
Artwork Type
Paul Klee's vacation in Sicily during the summer of 1924 provided him with the subjects for several watercolors that capture the color, light, and mood of a specific geographical location and cast of characters. This portrait and that of Frau R. on a Journey to the South, also of 1924 (present whereabouts unknown), are good-natured caricatures of what might be two prim northern ladies whose absurd hats insufficiently shield them from the intensity of the Mediterranean sun.
The registers that break Frau R. into horizontal sections do not so rigidly stratify Frau P.; her hat dips at a jaunty angle. The vivid, warm color that thickens and thins atmospherically over the surface of the page is incised with simplified graphic contours. The black smudges on the surface result from the use of a transfer technique often employed by Klee in this period. In this technique, one side of a sheet of paper was coated with black oil and laid against a blank support. Then a drawing was placed on top of these two layers and its lines traced with a stylus, transferring the outline to the lower sheet.¹ Finally, watercolor was added.
The heart shape on Frau P.'s chest appears frequently in Klee's work, sometimes as a mouth, nose, or torso. The motif bridged the organic and inorganic worlds for the artist by symbolizing life forces while serving as a "mediating form between circle and rectangle."²
Lucy Flint
1. See J. Glaesmer, Paul Klee Handzeichnungen I, Bern, 1973, pp. 258–60. 2. P. Klee, Notebooks: Volume 2: The Nature of Nature, ed. J. Spiller, trans. H. Norden, New York, 1973, p. 106.