Artist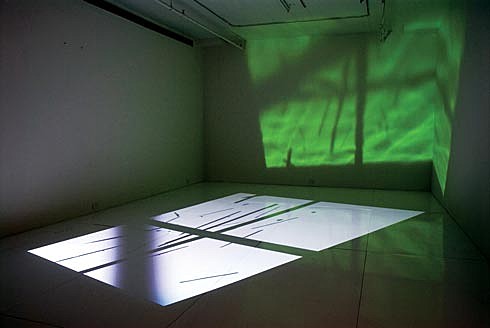 Paul Chan
6th Light
Artist
Paul Chan b. 1973, Hong Kong
Title
6th Light
Date
Medium
Flash animation projection, silent, 14 min.
Dimensions
dimensions variable
Edition
edition 2/5
Credit Line
Solomon R. Guggenheim Museum, New York Purchased with funds contributed by the International Director's Council and Executive Committee Members: Tiqui Atencio Demirdjian, Christina Baker, Edythe Broad, Janna Bullock, Rita Rovelli Caltagirone, Dimitris Daskalopoulos, Harry David, Caryl Englander, Shirley Fiterman, Laurence Graff, Nicki Harris, Dakis Joannou, Rachel Lehmann, Linda Macklowe, Peter Norton, Tonino Perna, Simonetta Seragnoli, Cathie Shriro, Ginny Williams, and Elliot K. Wolk, and Sustaining Members: Linda Fischbach, Beatrice Habermann, and Cargill and Donna MacMillan, 2007
Accession
2007.31
Copyright
Paul Chan
Artwork Type
Forging parallel identities as an artist and a political activist, Paul Chan has eschewed a signature style in favor of a multidisciplinary practice that ranges from documentary videos and computer animations, to charcoal drawings and conceptual typefaces. The 7 Lights is a series of large-scale projections in which digitally animated paper silhouettes appear as delicate shadows of natural elements, consumer objects, and the human form, all floating through the sky or tumbling down to Earth. Chan places a line through the word "Light" in the series' title as a literal reflection of the work's form—"light and light that has been struck out"—and describes the sequence as a hallucinatory interpretation of the seven days of biblical Creation. In 6th Light, the outline of a windowpane is cast across the floor, mirroring an area of undulating green light on the wall. Amid an apparently catastrophic shower of abstracted shapes, evoking images of falling debris from a bombing or natural disaster, the architectural structure is shattered and dispersed. While this entropic breakdown of man-made order appears to be more closely aligned to concepts of apocalypse than creation, the restrained lyricism of the piece tempers the shock of violent dissolution with a sense of potential rebirth.