Artist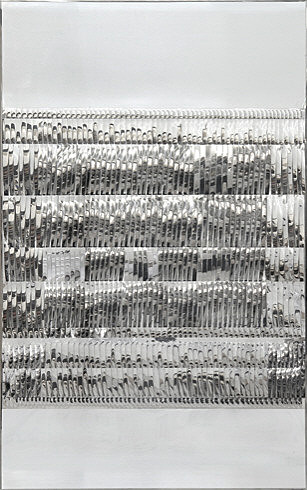 Heinz Mack
The Joy of Calvin (Die Freude des Calvin)
Artist
Heinz Mack b. 1931, Lollar, Germany
Title
The Joy of Calvin (Die Freude des Calvin)
Date
Medium
Aluminum and wood
Dimensions
63 x 39 3/8 inches (160 x 100 cm)
Credit Line
The Solomon R. Guggenheim Foundation Gift of Heinz Mack, 2007
Accession
2007.4
Copyright
2016 Artists Rights Society (ARS), New York / VG Bild-Kunst, Bonn
Movement
In 1950 Heinz Mack enrolled at the Staatliche Kunstakademie, Düsseldorf, where his art-historical training did not include modern art. A trip to Paris introduced him to works by the likes of Henri Matisse, Joan Miró, and Pablo Picasso for the first time. Immediately afterward, Miró exerted a discernible influence on Mack's work; however, the young German quickly turned to a style then dominant in Western Europe, Art Informel, abstract painting characterized by an emphasis on gesture and improvisatory technique. By the mid 1950s Mack was producing paintings—which he later described as "documents of chaotic feelings"—with heavily worked surfaces laden with scratchlike calligraphic marks that owe a debt to the art of Hans Hartung and Antoni Tàpies.
After graduating from the academy in 1953, Mack and his former classmate Otto Piene undertook philosophy studies at the Universität zu Köln, Cologne. Upon completion of their degrees in 1957, they sought to redress the total absence of a contemporary gallery system and general lack of institutional support for young artists in Germany by holding one-night exhibitions in their studios (eight between 1957 and 1958). Shortly after the second one they met Yves Klein, whose L'époque blue (The Blue Period) was the inaugural show at Alfred Schmela's Düsseldorf gallery. Klein's confident self-presentation, coupled with his experimental monochrome paintings, contributed to their decision to form Gruppo Zero (Group Zero), so named because the word could be almost universally understood and signified a new, positive beginning for art.
Beginning in 1958, Mack produced paintings he called Dynamic Structures (Dynamische Strukturen), which consisted of a black-and-white linear grid that imparted the impression of vibration to the surface of the canvas. Also in 1958, Mack found a means of emphasizing dynamism in his work, which went beyond painting. By imprinting a gridlike pattern in relief on aluminum sheets, he could generate a play of light across the surface that elicited a strong sensation of vibration; he called the resulting works Light Reliefs (Licht-Reliefs). In The Joy of Calvin (Die Freude des Calvin, 1963), Mack covered a wooden panel in aluminum, creating a monochromatic surface. (Just as Klein had identified himself as the painter of the color blue, Mack proclaimed himself the painter of the color silver.) Smooth, silver rectangular planes fill the top and bottom of the vertically oriented panel, and the center contains a stack of seven rows of parallel strips of aluminum, which formally invoke the Dynamic Structure paintings. The shimmering surface, coupled with the wavy lines rendered in relief, allows light, rather than color, to enliven the work and generate a sensation of movement. The piece's title reflects Mack's sustained interest in disciplines beyond art, as it refers to the American scientist Melvin Calvin who proved that sunlight, not carbon dioxide, acts on chlorophyll in a plant to fuel the manufacturing of organic compounds. This referent underscores the formal message of the work itself—namely, the power of light.