Artist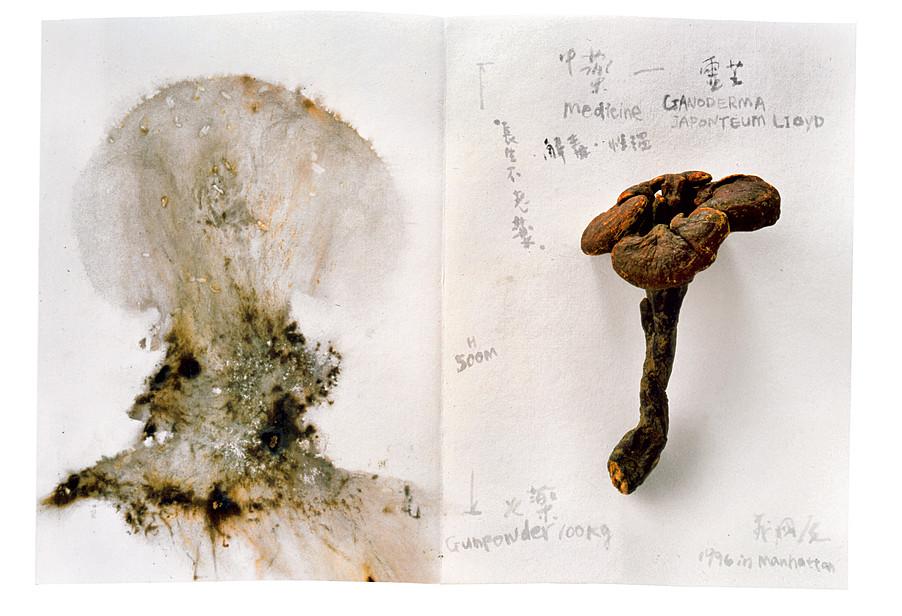 Cai Guo-Qiang
Drawing for The Century with Mushroom Clouds, Project for the 20th Century
Artist
Cai Guo-Qiang b. 1957, Quanzhou, China
Title
Drawing for The Century with Mushroom Clouds, Project for the 20th Century
Date
Medium
Gunpowder, ink, and dried Lingzhi mushrooms on paper, twenty-paged folding album
Dimensions
11 x 189 9/16 x 13/16 inches (28 x 481.5 x 2.1 cm) open; 11 x 8 1/16 x 13/16 inches (28 x 20.5 x 2.1 cm) closed
Credit Line
Solomon R. Guggenheim Museum, New York Partial gift of the artist and purchased with funds contributed by the International Director's Council and Executive Committee Members: Tiqui Atencio Demirdjian, Christina Baker, Edythe Broad, Janna Bullock, Rita Rovelli Caltagirone, Dimitris Daskalopoulos, Harry David, Caryl Englander, Shirley Fiterman, Laurence Graff, Nicki Harris, Dakis Joannou, Rachel Lehmann, Linda Macklowe, Peter Norton, Tonino Perna, Inga Rubenstein, Simonetta Seragnoli, Cathie Shriro, Ginny Williams, and Elliot K. Wolk, and Sustaining Members: Linda Fischbach, Beatrice Habermann, and Cargill and Donna MacMillan, 2007
Accession
2007.52
Copyright
(detail). Cai Guo-Qiang
Artwork Type
Cai Guo-Qiang studied stage design at the Shanghai Drama Institute and emerged as a member of China's experimental art movements that burgeoned in the early 1980s postreform era. He moved to Japan in 1986 and has been based in New York since 1995. His work responds to and signifies the expanded parameters of art making and cultural identity in a global era.
Best known for his use of gunpowder, which was invented by the Chinese as an elixir of immortality, Cai mines its charged identification with China, original medicinal use, and ongoing equation with violence. Explosives are central to Cai's signature gunpowder drawings, which are made by igniting gunpowder on fibrous paper leaving the charred residue of the original matter. Gunpowder is also the essential material for his explosion events, which are outdoor, site-specific pyrotechnic displays, often on a monumental scale.
The Guggenheim's album belongs to a series of explosion events and related gunpowder drawings, The Century with Mushroom Clouds: Project for the 20th Century (1995–96). In this series, Cai reimagined one of history's greatest weapons of mass destruction as art. The mushroom-cloud forms evoking nuclear explosions are juxtaposed with an actual Lingzhi mushroom, a medicinal ingredient. For Cai, the forces of destruction are in a dialectical process of creation and healing, and the only constant is change itself.
Cai also creates large-scale installations, often using overt Asian imagery embedded with social and political critique. Cry Dragon/Cry Wolf: The Ark of Genghis Khan (1996), first realized at the Guggenheim Museum SoHo in competition for the Hugo Boss Prize 1996, uses stereotypical imagery: traditional sheepskin rafts are installed across a gallery to look like the spine of a dragon, and the work's title cites Asia's most famous warrior, whose invasions reached as far as Eastern Europe. Cai inserted three running Toyota car engines, which augment Genghis Khan's historic military threat with functioning products of East Asia's current economic threat. This installation is more than a spectacular reinvigoration of Chinese cultural devices; it critiques the West for its staid imaginary of China while inferring the undercurrent of conflict that has characterized U.S.-Asia relations from the Cold War into the era of globalization.
Alexandra Munroe