Artist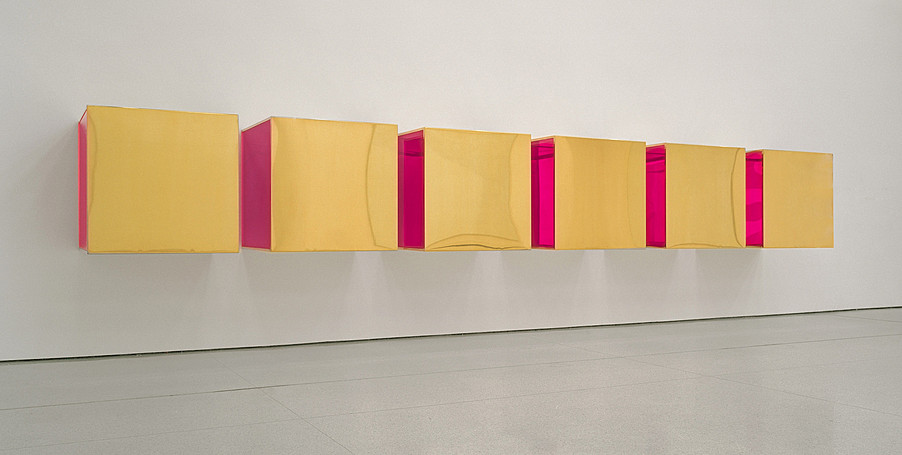 Donald Judd
Untitled
Artist
Donald Judd b. 1928, Excelsior Springs, Missouri; d. 1994, New York
Title
Untitled
Date
Medium
Brass and red fluorescent Plexiglas, six units with 8-inch intervals
Dimensions
2 feet 10 inches x 2 feet 10 inches x 2 feet 10 inches (86.4 x 86.4 x 86.4 cm) each; 2 feet 10 inches x 20 feet 4 inches x 2 feet 10 inches (86.4 x 619.8 x 86.4 cm) overall
Credit Line
Solomon R. Guggenheim Museum, New York Panza Collection, 1991
Accession
91.3719
Copyright
Art Judd Foundation. Licensed by VAGA, New York, NY. Installation view: Singular Forms (sometimes repeated), Solomon R. Guggenheim Museum, New York, March 5–May 19, 2004. Photo: David Heald © SRGF
Movement
In the early 1960s Donald Judd abandoned painting, having recognized that "actual space is intrinsically more powerful and specific than paint on a flat surface."¹ His move into three dimensions was coincident with a growing acknowledgment among other artists of his generation of the physical environment as an integral aspect of an artwork. Minimalist sculpture broke with illusionistic conventions by translating compositional concerns into three dimensions, rendering the work a product of the exchange between the object, the viewer, and the environment.
In his 1965 essay "Specific Objects," Judd championed recent work that was neither painting nor sculpture by a diverse range of artists such as Lee Bontecou, Mark di Suvero, Claes Oldenburg, and Frank Stella. His endorsement of "the thing as a whole" rather than a composition of parts stemmed from what he saw as the strength and clarity asserted by singular forms, the unitary character of which resulted from the conflation of color, image, shape, and surface. Judd's earliest freestanding sculptures were singular, boxlike forms constructed of wood or metal. The simple shape of Untitled (1968), with its slightly recessed upper surface, is readily intelligible as a whole and thus avoids the compositional effects that for Judd diluted a work's power. As the artist's exploration of three-dimensional space became more complex, his aversion to such effects was manifested in a number of strategies designed to subordinate a work's individual components to the whole.
Like the rectangular shape with which he began, Judd's rows and progressions are legible systems that reoccur in his oeuvre. In its repetition of serial forms and spaces, the vertical stack of Untitled (1969) literally incorporates space as one of its materials along with highly polished copper, creating a play between positive and negative that coheres as a totality. Similarly, in Untitled (1970), the application of a dual Fibonacci progression (a mathematically based sequence in which each number is the sum of the two previous two: 0, 1, 1, 2, 3, 5, and so on) imparts an internal logic to both solid and void alike, the anodized color of the boxes throwing the mathematical system into greater relief. While spatial concerns were foremost for Judd, color and materials always remained central to his conception of art. Sustained and rigorous investigations of space and form, his project is tempered by a rich palette of industrial materials, such as stainless steel, aluminum, and translucent Plexiglas, the varied surfaces and finishes of which lend a sumptuous air to an otherwise austere undertaking.
J. Fiona Ragheb
1. Donald Judd, Complete Writings 1959–1975 (Halifax: Press of the Nova Scotia College of Art and Design; New York: New York University Press, 1975), p. 184.