Artist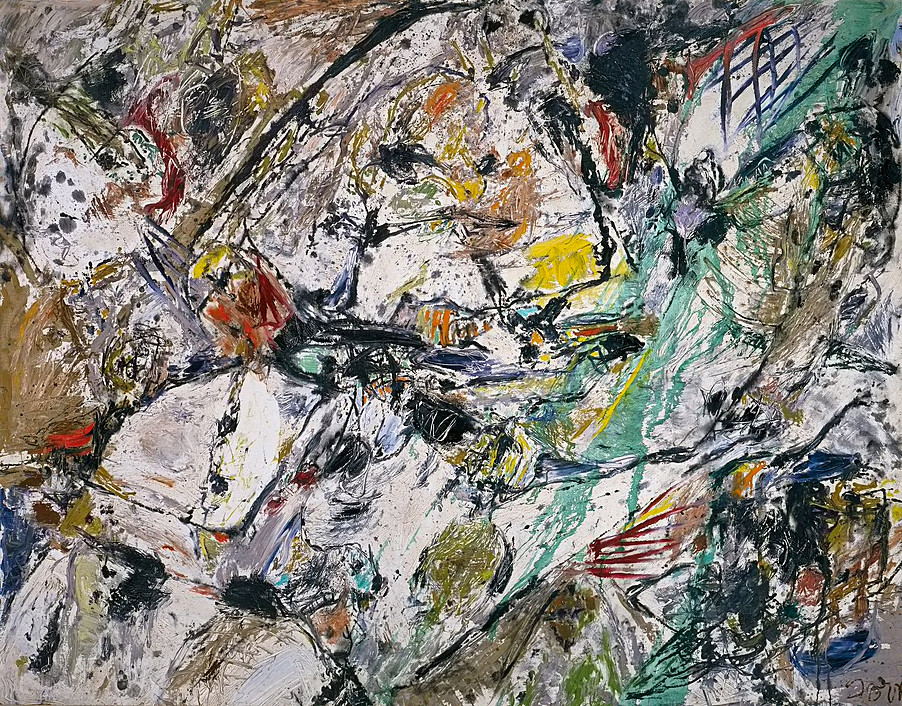 Asger Jorn
A Soul for Sale (Ausverkauf einer Seele)
Artist
Asger Jorn b. 1914, Vejrum, Denmark; d. 1973, Aarhus, Denmark
Title
A Soul for Sale (Ausverkauf einer Seele)
Date
Medium
Oil with sand on canvas
Dimensions
79 x 98 3/4 inches (200 x 250 cm)
Credit Line
Solomon R. Guggenheim Museum, New York Purchased with funds contributed by the Evelyn Sharp Foundation, 1983
Accession
83.3040
Copyright
2016 Donation Jorn, Silkeborg / Artists Rights Society (ARS), NY / COPY-DAN, Copenhagen
Artwork Type
Movement
Asger Jorn's career began in 1936 when he ventured from Copenhagen to Paris with the goal of apprenticing under the legendary painter Vasily Kandinsky. On his arrival, however, Jorn promptly learned that Kandinsky did not operate his own academy. Instead, the young artist enrolled in Fernand Léger's Académie contemporaine and worked with Le Corbusier on his Pavillon des temps nouveaux at the World Exhibition of 1937, experiencing firsthand the formal restraint and balance that characterized the art and architecture of Le Corbusier's Purism—a movement dedicated to highly rationalized geometric forms.
But Jorn preferred methods rooted in spontaneity and would ultimately reject the techniques of his teachers in favor of a life of art, writing, and activism that amounted to an assault on rationality in all its guises—painterly, architectural, and social. In 1948 Jorn and others, including Karel Appel, founded Cobra, an international collection of like-minded experimental artists. Indebted to the style of Jorn's friend Jean Dubuffet—whose Art Brut looked to traditions of art making commonly considered debased or vulgar by the art establishment—Cobra art combined Surrealist automatism with the materiality of gestural mark making. Many of Jorn's early paintings exist on the boundary between abstraction and figuration, aligning his practice with that of American contemporaries including Willem de Kooning and Jackson Pollock.
In 1957 Jorn merged his anti-Bauhaus group, the Mouvement internationale pour un Bauhaus imaginiste (International movement for an imaginist Bauhaus, founded in 1954), with Guy Debord's Lettrist International, to form the Internationale Situationiste (Situationist International, SI), a Marxist, activist group of writers, artists, and theorists who sought to destabilize societal practices and structures ranging from urban planning to the art establishment. Jorn continued to exhibit an anarchic spirit even after he left the SI in 1961. As an act of rebellion against the concept of art prizes, for instance, he refused to accept the Guggenheim Museum's 1964 International Award for his painting Dead Drunk Danes (Døddrukne Danskere, 1960), stating in a telegram that he wanted no part of the museum's "ridiculous game."
During his SI period Jorn focused great effort on a series of "modification" paintings, which utilized other paintings as pre-existing supports on which to produce new images or marks, but he also continued to work within his Cobra aesthetic, making paintings such as A Soul for Sale (Ausverkauf einer Seele, 1958–59). In both its use of expressive brushwork and its collapsing of foreground and background, figuration and abstraction, A Soul for Sale articulates some of Jorn's most significant interrogations of the precepts of geometric abstraction and rationalized art making. Barely discernible amid a field of gestural marks, the work's central figure—demarcated by fragmented contour lines that seem to merge with the abstract ground even as they define the figure's form—appears on the verge of disappearing. Jorn seems to deny his subject even as he represents it. In a similar fashion, rational strategies of delineating form or representing depth, seen in the contour drawing or in the crosshatching at the top right of the painting, are overcome by strikingly crude or naive methods of mark making, such as scattered soil or paint smudges—techniques Jorn first developed early on as a Cobra artist.