Artist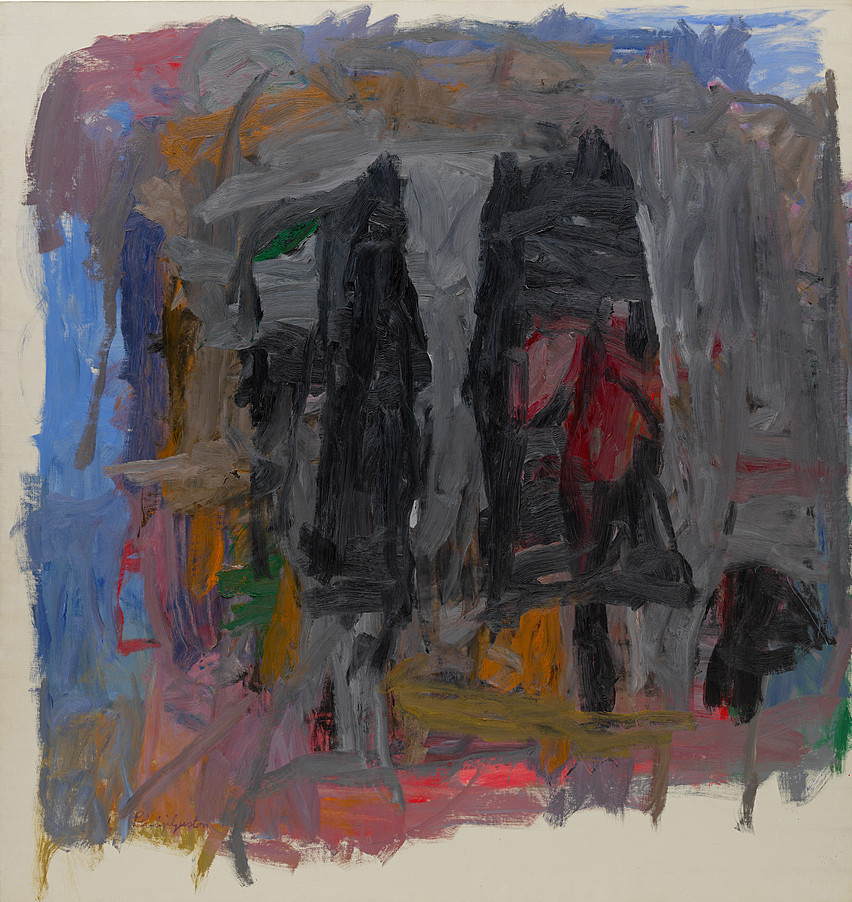 Philip Guston
Duo
Artist
Philip Guston b. 1913, Montreal; d. 1980, Woodstock, New York
Title
Duo
Date
Medium
Oil on canvas
Dimensions
72 1/8 x 68 inches (183.2 x 172.7 cm)
Credit Line
Solomon R. Guggenheim Museum, New York
Accession
64.1683
Copyright
1961 Philip Guston
Artwork Type
Movement
Born to Russian-Jewish parents who had emigrated from Odessa—first to Canada and then to Los Angeles—Philip Guston developed his interest in art making from a very young age. He befriended classmate Jackson Pollock at the Los Angeles Manual Arts High School where the two learned about modern European art, Eastern philosophy, theosophy, and mystic literature from their teacher Frederick John de St. Vrain Schwankovsky. But when the young artists co-authored a petition protesting the school's emphasis on athletics over art, they were promptly expelled. While Guston never returned to finish high school, he continued to pursue his art under the influence of Renaissance painters Piero della Francesca, Masaccio, and Paolo Uccello; Mexican muralists José Orozco, Diego Rivera, and David Siqueiros (Guston served as his assistant for a time); and the American Regionalists, particularly Thomas Hart Benton.
In the early 1930s Guston produced a series of murals in California that reflected a synthesis of these artistic sources as well as his leftist political leanings. It was during this time that he first began to represent hooded figures, a motif that would recur throughout his career. An encounter with the paintings of the Italian artist Giorgio de Chirico in the Louise and Walter Arensberg Collection had an impact on his representation of these figures, but his primary source of inspiration was the Ku Klux Klan, whose presence was strongly felt in Los Angeles at that time. Early works that featured Klansmen were defaced or destroyed by unknown parties and these experiences solidified his attachment to the theme.
In 1935 he moved to New York at Pollock's urging and joined the mural section of the Federal Art Project, part of the Works Progress Administration established by President Franklin Delano Roosevelt during the Great Depression. In the late 1940s Guston began to work in a loosely geometric, abstract style, and for the better part of the decade he taught at various schools in the Midwest. By 1951 he had returned to New York and dedicated himself to exploring gestural abstraction in works dominated by short strokes concentrated in the center of the canvas and characterized by vertical and horizontal lines interlaced to create a series of right angles. His palette principally consisted of muted reds, pinks, and grays. While many have referred to his work of this period as Abstract Impressionist, Guston rejected this label.
In 1959 Guston incorporated a loosely rendered image of a hooded figure with paintbrush in hand in The Painter. With this work, he initiated a series of paintings in which he tested the boundaries between figuration and abstraction. Duo (1961) belongs to this transitional body of work. Two dark forms situated in a multitude of subtly differentiated grays dominate the composition. Touches of blue, red, yellow, and pink are woven through the gray brushstrokes to create an atmosphere surrounding the two central figures. As in his nonrepresentational works, Guston left the periphery of the canvas bare and focused on the middle where he has built up layers of pigment. The moodiness and predominantly black-and-gray palette of this and similar works have led art historians to refer to them as Guston's "dark paintings."
The return of the hooded figure in Duo and other pictures of the early-to-mid-1960s foreshadowed Guston's focus on this subject in his late work, which represented a radical departure from his abstract paintings and drew on the visual language of cartoons and a vivid palette of reds, pinks, and grays.