Artist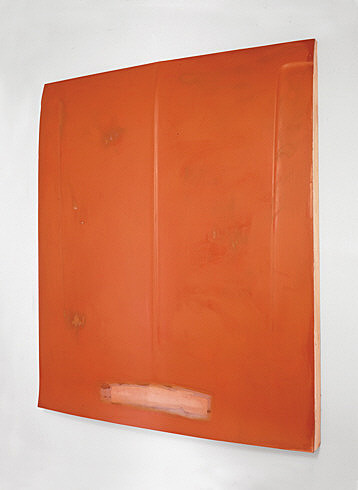 Richard Prince
Cereal 1
Artist
Richard Prince b. 1949, Canal Zone, Panama
Title
Cereal 1
Date
Medium
Fiberglass, polyester resin, acrylic, and wood
Dimensions
60 3/4 x 51 5/8 x 4 1/4 inches (154.3 x 131.1 x 10.8 cm)
Credit Line
Solomon R. Guggenheim Museum, New York Gift, Jennifer and David Stockman, 2008
Accession
2005.54
Copyright
Richard Prince. Photo: Courtesy Gladstone Gallery, New York
Artwork Type
Movement
Having long cultivated his status as a renegade, Richard Prince frequently traffics in American symbols of rebellion, such as motorcycles and cowboys. It is not surprising, then, that in 1987, during an extended stay in Los Angeles, he trained his focus on the subculture surrounding the American car. He began painting on muscle-car hoods—or more specifically, fiberglass reproductions of steel originals. He has said:
With the hoods, I wanted to paint something that was already painted. I liked the way certain streetcars are painted. Flat, primed, flaked, the occasional stripe or decal or logo. There are advertisements for these hoods in the backs of car magazines. You send away for them. I get them through the mail. I use a body shop upstate to do the post-fabrication work. The bondwork, the sanding and spraying. I paint them specific car colors: Tor-red. Panther Pink. Grass Green. Lemon Twist. Plum Crazy. Vitamin C. Hugger Orange. I order certain models: Shelbys, Challengers, Chargers.¹
As reproductions, the hoods Prince chose to work with can be seen in relation to his longstanding strategy of appropriation. Though he initially outsourced the spray painting of the hoods to body shops in order to give them an authentically slick finish, he eventually started painting them himself. Using a loose and gestural style, he transformed them into abstractions that bore little resemblance to the original hoods on which they were based. Mounted on the wall, as reliefs, or placed on pedestals as freestanding sculptures, the Hoods are ghostly, atmospheric, and deeply evocative artifacts.
In the early 2000s Prince gutted the interior of a run-down tract house on the outskirts of Rensselaerville, in upstate New York. He created an exhibition space for the Hoods inside the stripped-down structure, which he called Second House (2001–07), in reference to a Los Angeles bungalow he had appropriated in the early 1990s (First House, 1993). The working-class setting (the house was once used as a hunting camp) was ideal for exhibiting the Hoods, which represent a yearning for a free-and-easy lifestyle unencumbered by obligations to conform or aspire to a bourgeois existence.
Claire Barliant

1. Larry Clark, "Interview," in Richard Prince, exh. cat. (New York: Whitney Museum of American Art, 1992), p. 131.