Artist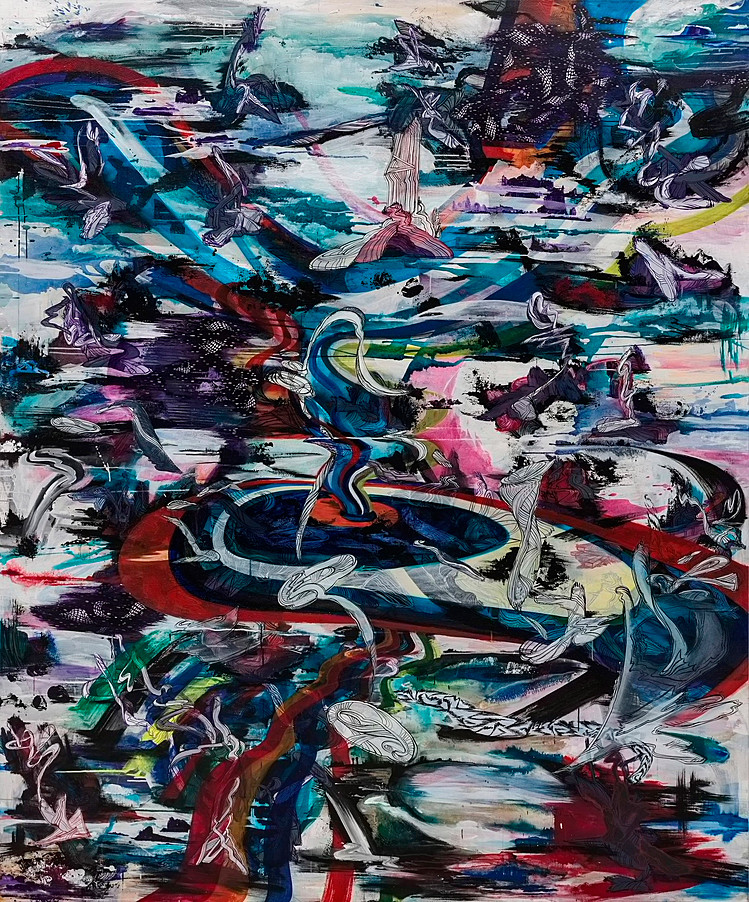 Suling Wang
Cryptic Butterfly
Artist
Suling Wang b. 1968, Taiwan
Title
Cryptic Butterfly
Date
Medium
Oil and acrylic on canvas
Dimensions
108 3/4 x 91 3/4 x 1 3/4 inches (276.2 x 233 x 4.4 cm)
Credit Line
Solomon R. Guggenheim Museum, New York Purchased with a special International Director's Council fund in memory of Elaine Terner Cooper, with contributions by Catherine Adler, Steven Ames, Tiqui Atencio, Ruth Baum, Karen and Martin Berger, Gail Engelberg, Linda Fischbach, Ira Harris, Barbara Horowitz, Fern Hurst, Robert and Ellen Jaffe, Sidney Kohl, Denise LeFrak, Linda Macklowe, Cargill and Donna MacMillan, Lyn Ross, Rachel Rudin, Simonetta Seragnoli, and Carolyn Wade, 2005
Accession
2005.42
Copyright
Suling Wang
Artwork Type
Suling Wang's dynamic paintings, alternatively layered with bold swathes of paint and delicate brushstrokes, reveal the complex dualities of her artistic origins. Wang spent her childhood in rural Taiwan but moved to London to study art in 1993, where she has remained ever since. From traditional Oriental painting to manga to Disney cartooning, Eastern and Western influences coexist in Wang's work and speak to her multilayered artistic identity.
Wang's pictures are large in scale and draw on the gestural marks and loose brushstrokes that characterized the work of the Abstract Expressionists in the 1940s and 1950s. Wang clearly recognizes the expressive potential of this spontaneous mode of picture making, but she also incorporates a range of figurative motifs into the overall abstraction. In Cryptic Butterfly (2005), for example, thick and swirling lines of paint cut across translucent chromatic fields, which are further punctuated by "imaginary landscapes," volumetric abstractions (wrapped in thin lines to simulate three-dimensionality), and calligraphic marks. The artist's dazzling color palette and pulsating brushstrokes infuse the painting with emotional fervor and drama. Meanwhile, meticulously rendered geographical forms (in Cryptic Butterfly, one detects sinuous roads, mountain jags, and mythic islands) anchor the composition and demand closer scrutiny. Such iconographic elements link Wang's art with the Chinese landscape tradition, in which serene depictions of nature offer a sanctuary from the ordinary world. In her complex work, painting and drawing, abstraction and figuration, are interwoven and at times wholly confused.
The pictorial density that characterizes Wang's paintings produces sensations of movement and depth. In Cryptic Butterfly black-and-white patterns, which recall Bridget Riley and Victor Vasarely's Op art, offer discrete moments of three-dimensionality before metamorphosing into colored stipples. While localized forms are fixed to the canvas, streams of paint vibrate and flow through transparent compositional layers. Wang's rhythmic designs envelop her entire painting surface and even extend beyond the canvas edge, like a square of richly decorated fabric or a Jackson Pollock drip painting, to give the illusion of infinite space.
Wang's ambitious practice likewise explores dimensions of time and personal memory, as articulated in the blending, overlapping, and colliding of motifs on the pictorial plane. These disjointed forces that define her work express the social dislocation she felt in abandoning her native island and ultimately, her uncertain location as an artist. Despite finding inspiration in various modes of mark making from different art-historical periods and places, the traditions of her original Taiwanese culture still largely inform Wang's practice. Her ongoing struggle between the past and the present is keenly felt in each explosive picture.