Artist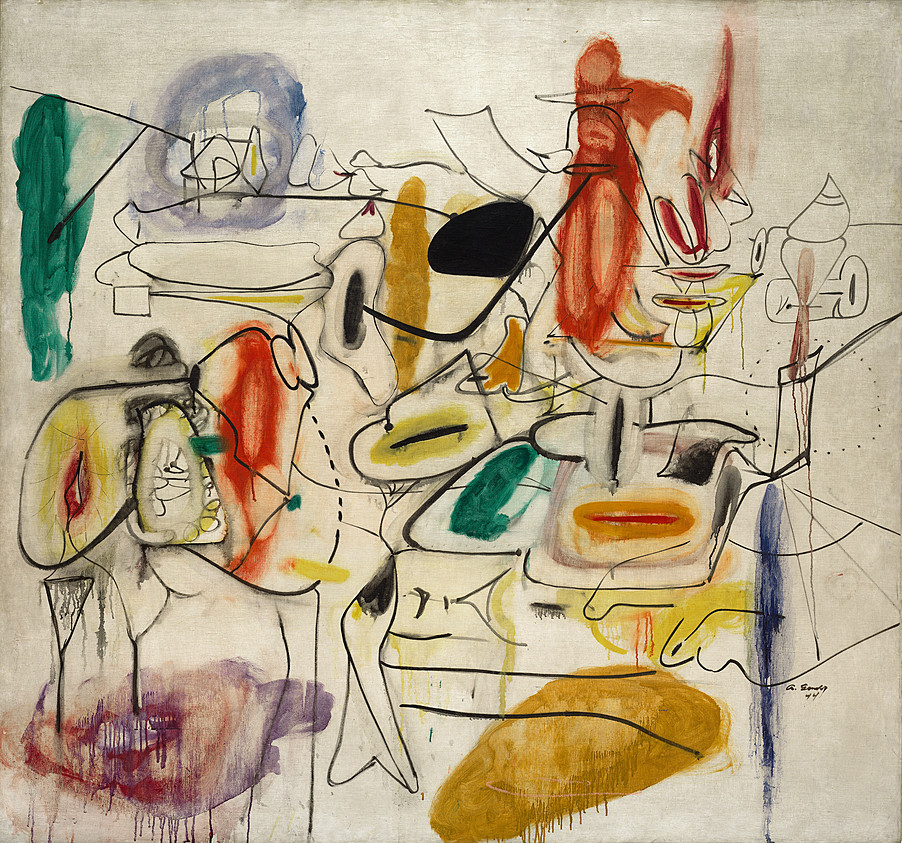 Arshile Gorky
Untitled
Artist
Arshile Gorky b. 1902, Khorkom, Turkish Armenia; d. 1948, Sherman, Connecticut
Title
Untitled
Date
Medium
Oil on canvas
Dimensions
65 3/4 x 70 3/16 inches (167 x 178.2 cm)
Credit Line
The Solomon R. Guggenheim Foundation Peggy Guggenheim Collection, Venice, 1976
Accession
76.2553.152
Copyright
2016 Artists Rights Society (ARS), New York
Artwork Type
Movement
Arshile Gorky spent the greater part of 1944 at Crooked Run Farm in Hamilton, Virginia, where he produced a large number of drawings, many of which were conceived as preliminary studies for paintings. This work is preceded by such a study, a closely related untitled drawing of 1944 that sets out its motifs, their ordering within the composition, and the arrangement of color. Apart from the transformation of an empty contour at the upper center into a solid, anchored black form, only insignificant compositional and coloristic changes appear in the finished painting.
Gorky's enthusiastic response to the natural surroundings of rural Virginia infused his work with expressive freedom. Landscape references appear in Untitled; though the white ground is uniform, it is empty at the very top of the canvas, suggesting a slice of sky, while the "earth" below is replete with vegetal shapes and floral colors. A clear gravitational sense is produced by the dripping of paint thinned with turpentine, a technique suggested by Matta. As in They Will Take My Island of the same year, an aggressive diagonal accent cuts through the upper center of the canvas.
The techniques and content of Surrealism influenced the development of Gorky's language of free, organic, vitally curvilinear forms. Joan Miró's example is particularly evident here, in the disposition of floating abstract units on an indeterminate background, and in details such as flamelike shapes, dotted ovals, and suggestions of genitals. Unlike Miró, however, Gorky enmeshes his forms with one another to create the overall structure. Textured, insubstantial clouds of color occasionally pertain to the graphic form they accompany, but more often are independent elements, as in the work of Vasily Kandinsky. The curves, inflection, and directionality of Gorky's line likewise free it from descriptive function. In his emphasis on the autonomous expressive potential of line, form, and color, Gorky anticipated the concerns of Abstract Expressionism.
Lucy Flint