Artist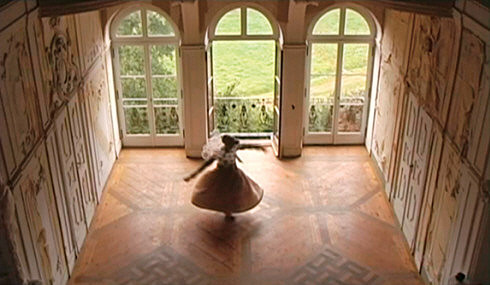 Janaina Tschäpe
Lacrimacorpus
Artist
Janaina Tschäpe b. 1973, Dachau, Germany
Title
Lacrimacorpus
Date
Medium
Color video projection with sound, 3 min., 36 sec.
Dimensions
dimensions variable
Edition
edition 4/4
Credit Line
Solomon R. Guggenheim Museum, New York Gift, Manuel de Santaren, 2005
Accession
2005.6
Copyright
Janaina Tschäpe
Artwork Type
Employing a wide variety of mediums, including video, photography, installation, and drawing, Janaina Tschäpe has created an enigmatic mythology centered on the transformation of the female body. In staged videos and photographs, she has decorated herself and her friends with balloons and inflated condoms to enact hybrid creatures with bloblike appendages; these strange specimens are usually set in watery landscapes. Tschäpe's latest video, Lacrimacorpus, takes place in a man-made interior and evokes history as well as myth. The setting is the castle of Ettersburg near Weimar, which the artist was drawn to because of its dual history as both a summer residence of Goethe (who composed poems on its grounds) and a building overlooking the Nazi concentration camp of Buchenwald. In the video, a female figure, adorned in a costume from Goethe's time, dances in an empty hall until collapsing to the floor. Her spinning motion, along with the frame of the room, the mechanical winding noise at the video's beginning, and the chiming music, evokes a child's music box. This playful allusion and the setting's pristine elegance lie in tension with the site's tragic history. The work's title, Latin for "tear body," suggests that the bubbles of inflated latex attached to the dancer are a cascade of tears—a silent expression of her buried sadness.
Ted Mann