Artist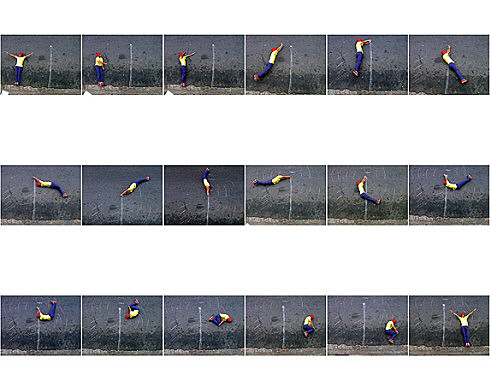 Robin Rhode
Street Gym
Artist
Robin Rhode b. 1976, Cape Town
Title
Street Gym
Date
Medium
Digital animation, with sound, 42 sec.
Dimensions
dimensions variable
Edition
edition 5/5
Credit Line
Solomon R. Guggenheim Museum, New York Purchased with funds contributed by the Young Collectors Council, 2005
Accession
2005.30
Copyright
Robin Rhode
Artwork Type
Using commonplace materials such as white chalk and black house paint, Robin Rhode stages guerrilla interventions in the urban environment. While they recall graffiti art, Rhode's marks on brick walls and playground pavements serve as a means to an end: the artist incorporates his own body and interacts with his drawn objects in pantomimelike performances that are recorded as either sequential photographs, like the chronophotographs of Eadweard Muybridge, or stop-motion animations. For Street Gym, a 2000 performance originally presented in photographic format and transformed into a digital animation in 2004, Rhode was shot from above as he lay on the pavement and enacted high-bar gymnastics with the aid of a chalk-drawn pole and cartoon motion lines. In the animation, the illusion is further enhanced by the fluctuating tempo of the changing frames, which slows as he reaches equilibrium above the pole and speeds up for his virtuosic dismount. In its blend of humor and social commentary, Street Gym is typical for Rhode: his performances regularly exploit stereotypes of the young black male as star athlete (a related work shows the artist performing an impossible somersault slam dunk) or thug (another piece simulates a car theft). Street Gym also engages the age-old issue of mimesis in art, simultaneously exploiting the tensions between the two-dimensional and the three-dimensional, the vertical and the horizontal, and the real and the represented.
Ted Mann