Artist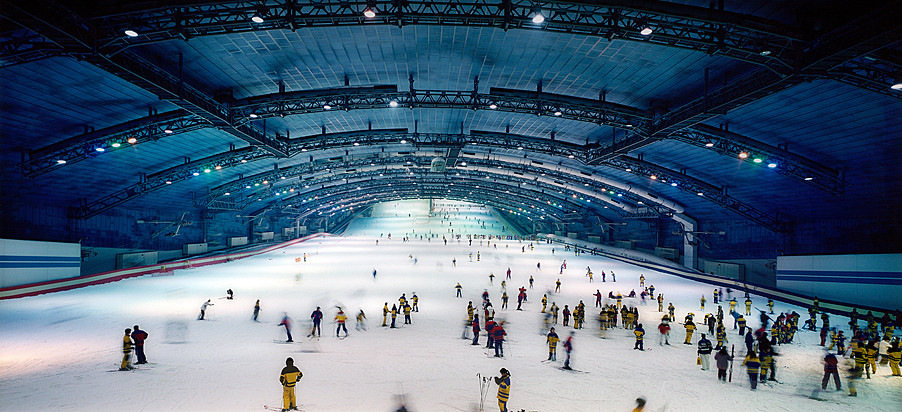 Armin Linke
Ski Dome, Tokyo, Japan
Artist
Armin Linke b. 1966, Milan
Title
Ski Dome, Tokyo, Japan
Date
Medium
Chromogenic print, face-mounted to acrylic
Dimensions
40 x 86 5/16 inches (101.6 x 219.2 cm)
Edition
edition 5/5
Credit Line
Solomon R. Guggenheim Museum, New York Gift, Stephen Tobias, 2005
Accession
2005.5
Copyright
Armin Linke
Artwork Type
Since the late 1990s, Milan-based artist Armin Linke has traversed the globe, traveling over five continents to compile a vast photographic atlas of the contemporary world. From Brasilia to Baghdad to Bangkok, Linke has turned his camera to both natural and man-made environments. His subjects range from mountains, glaciers, rainforests, and barren plains; to rapidly growing megacities, and the massive interiors of hotels and industrial plants; to iconic institutional spaces such as the United Nations building and Star City in Moscow. Interested in the relationship between mankind and nature, Linke has often examined those places where the two intersect. Power and energy stations recur in his work, as do massive engineering projects such as the construction of the Three Gorges Dam on the Yangtze River in China. While his expanding archive cumulatively chronicles the effects of development and globalization, Linke's photographs are distinct from photojournalistic images. Generally focusing upon the places rather than their inhabitants, they remain nonnarrative and open-ended. When human beings do appear, they are usually dwarfed in relation to the enormous, awe-inspiring scale of the natural or artificial surroundings.
Linke is regularly drawn to scenes that blur the border between fact and fiction. The selection of works that is reproduced in his catalogue Transient (2003) begins with a miniature model of the Alps from the École polytechnique fédérale in Lausanne, Switzerland—its true scale and origin only discernible from the caption—and ends with a photograph that Linke took at the actual North Pole, a nearly monochromatic field of white that appears almost less real by comparison. For Ski Dome, Tokyo, Japan (1998), a work from his series Global Box (1998–2000), Linke photographed a gigantic indoor ski slope in Japan.¹ Over the past decade, a number of such artificial snow resorts have been built in Asia and Europe, enabling year-round winter recreation; in 2005, SkiDubai opened its doors in the Middle East, offering a simulated experience of the North to desert residents. Linke captures the Tokyo structure's immense interior in a large-scale, panoramic format that recalls historical landscape painting. Rather than open sky, the massive, icy slope with its diminutive figures is jarringly spanned by a vast vaulted ceiling with electric lights. As in many of Linke's works, the photograph suggests the effects of rapid technological and commercial development upon the natural world. In this case, snow (and the entire winter landscape with all of its attendant mystery and romance) has been tamed and packaged as yet another commodity in a burgeoning global leisure industry.
1. The Tokyo Ski Dome, SSAWS (an acronym for "Spring Summer Autumn Winter Snow") opened in 1993. After financial losses, it closed in 2002 and was dismantled the following year. Linke also photographed an exterior view of the center.