Artist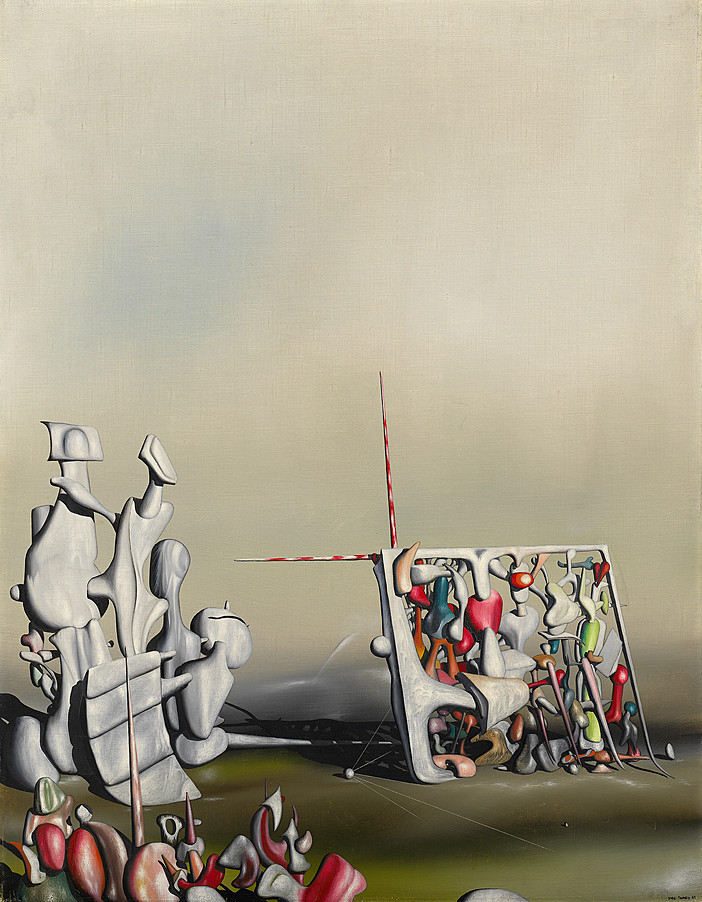 Yves Tanguy
There, Motion Has Not Yet Ceased (Là ne finit pas encore le mouvement)
Artist
Yves Tanguy b. 1900, Paris; d. 1955, Woodbury, Connecticut
Title
There, Motion Has Not Yet Ceased (Là ne finit pas encore le mouvement)
Date
Medium
Oil on canvas
Dimensions
28 x 21 7/8 inches (71.1 x 55.5 cm)
Credit Line
Solomon R. Guggenheim Museum, New York Bequest, Richard S. Zeisler, 2007
Accession
2007.47
Copyright
2016 Estate of Yves Tanguy/ Artists Rights Society (ARS), New York
Artwork Type
Movement
Meticulously painted and typically consisting of objects that resemble marine forms and rocks scattered in a vast landscape, Yves Tanguy's work succeeded—more than that of any other Surrealist painter—in creating a tangible but inexplicable reality that simulated a dream. Inspired by the harsh peninsulas, rough cliffs, and neolithic rock formations of his native Brittany along France's northern coast, Tanguy embraced eerie landscape in picture after picture.
Escaping the onslaught of World War II in 1939, Tanguy immigrated to Woodbury, Connecticut, with painter Kay Sage, who became his second wife the following year. In the early 1940s, he created a number of pictures that differed from his earlier style in size, boldness of color, and richness of form. While visiting his friends the Surrealist artists Max Ernst and Dorothea Tanning at their home in Sedona, Arizona, Tanguy was deeply affected by the majesty of the desert: mammoth red rock plateaus, recessed canyons, and blinding sunlight enriched his pictorial evolution.
In Tanguy's American period, rocklike formations absorb over half of each picture's height, radically altering the compositional space. At the same time, he continued to push his objects toward the bottom of the canvas, balancing the contrast between hard ground and soft sky. The isolated and sparsely placed objects of earlier works were now increasingly superseded by monumental architectonic figures. In 1945, Tanguy painted a group of boldly colored abstract landscapes, including There, Motion Has Not Yet Ceased (Là ne finit pas encore le mouvement). In this work, a group of osseous figures outfitted in what seems to be military costumes confront a rectangular contraption defended by red-and white-striped lances, into which an assortment of organ parts is crowded. This confrontation of merciless myrmidons and victims may be read as Tanguy's commentary on the Holocaust's gas chambers.
Though self-taught, Tanguy developed a remarkable mastery of oil painting. Incorporating the childhood fantasies and Celtic myths of Brittany, allusions to natural topography, and the Surrealist fascination with the unconscious, Tanguy's work defines a fully realized universe. His dreamscapes, at once alien and familiar, offer an accessible pathway to the realms of the human imagination.
Susan Davidson