Artist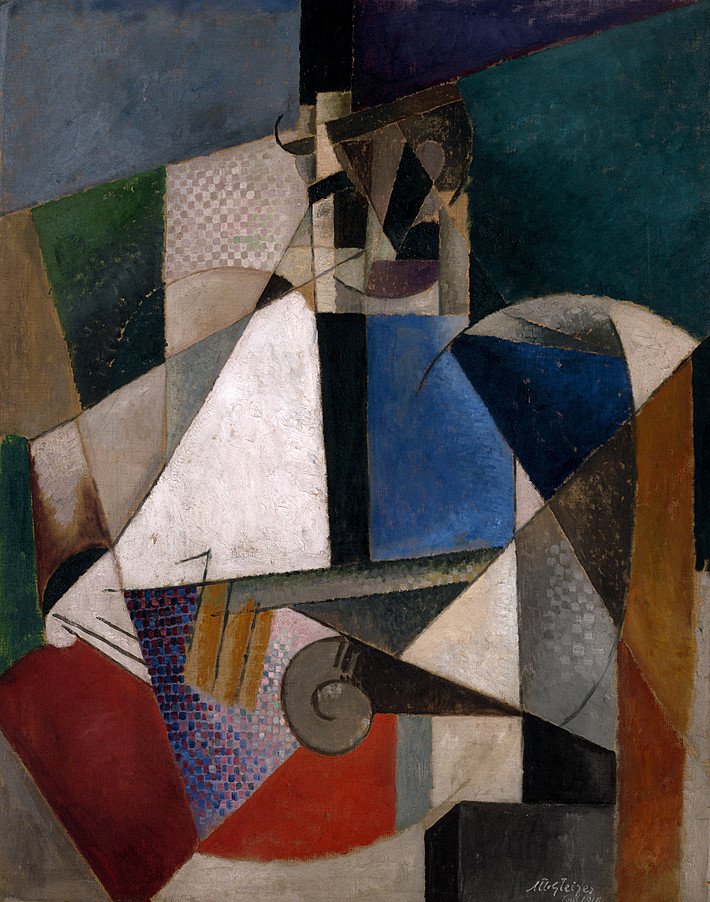 Albert Gleizes
Portrait of an Army Doctor (Portrait d'un médecin militaire)
Artist
Albert Gleizes b. 1881, Paris; d. 1953, Avignon, France
Title
Portrait of an Army Doctor (Portrait d'un médecin militaire)
Date
Medium
Oil on canvas
Dimensions
47 1/4 x 37 3/8 inches (119.8 x 95.1 cm)
Credit Line
Solomon R. Guggenheim Museum, New York Solomon R. Guggenheim Founding Collection, By gift
Accession
37.473
Copyright
2016 Artists Rights Society (ARS), New York/ADAGP, Paris
Artwork Type
Movement
The 1911 Salon des Indépendants—in which Robert Delaunay, Albert Gleizes, Jean Metzinger, and others presented paintings in an idiom that Guillaume Apollinaire would later term "Cubist"—was met with derision by critics and public alike. In an effort to deflect the outcry that followed, Gleizes and Metzinger published Du Cubisme in 1912. This important early treatise on Cubism stressed a conceptual approach to the translation of objects into the plastic realm, one in which surface appearances are sacrificed to the processes of thought.
Unlike Georges Braque and Pablo Picasso, who historically have been promoted as the main arbiters of Cubism, Gleizes abandoned Cubism's first, analytic phase and strove to create a synthetic art, one incorporating the social values that had preoccupied him since the days of the Abbaye de Créteil, a utopian community of artists and writers he helped establish in 1906. In rejecting what he perceived as Picasso's and Braque's "Impressionism of form" and dissection of the subject, Gleizes embraced a style that attempted to capture the subject in its absolute order and truth. With its broad, overlapping planes of brilliant color, Portrait of an Army Doctor embodies the second synthetic phase of Cubism.
This painting dates from 1914–15, during which time Gleizes served a second stint in the military. While Gleizes was stationed in Toul, his commanding officer—an admirer of his work—made arrangements so that Gleizes could continue to paint while fulfilling his military obligation. That at least eight studies for the painting survive is no surprise, given that Gleizes's artistic inclinations were accommodated by the regimental surgeon, in whose home he painted. With ample opportunity to observe and study his subject, Gleizes worked through these studies to resolve the compositional harmony of the painting, inflecting an otherwise staid genre with a circular rhythm. Gleizes experienced increasing frustration toward the end of the 1910s as the avant-garde embraced Dada, an anarchic enterprise that ran counter to his quest for social values in art. He began to focus increasingly on the compositional harmonies of his subjects—evident early on in works such as Portrait of an Army Doctor—in the belief that rhythmic harmonies were more universal and hence superior to subjective responses. In the early 1930s, together with Jean Arp, Delaunay, Jean Hélion, and others, he founded the Abstraction-Création group in order to advance pure abstraction. Tellingly, his works from the 1930s on promote plastic values to the exclusion of discernible subject matter, resulting in lyric explorations of pure form and color.
J. Fiona Ragheb