Artist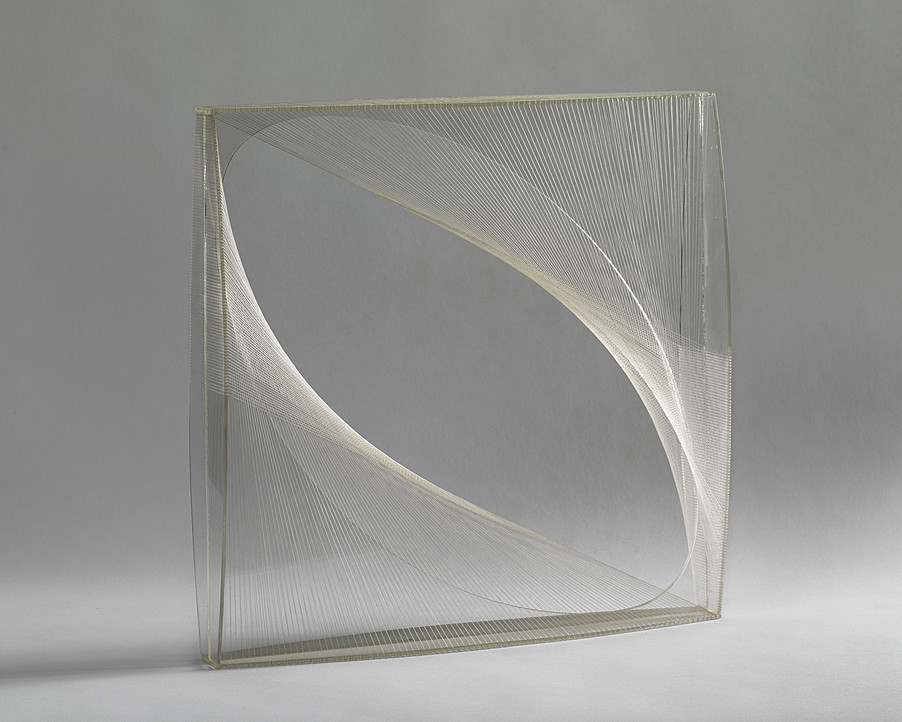 Naum Gabo
Linear Construction in Space No. 1
Artist
Naum Gabo b. 1890, Bryansk, Russia; d. 1977, Waterbury, Connecticut
Title
Linear Construction in Space No. 1
Date
Medium
Perspex with nylon monofilament
Dimensions
sculpture: 18 x 18 x 3 3/4 inches (45.7 x 45.7 x 9.5 cm); base: 13 x 22 x 3/4 inches (33.1 x 55.8 x 2 cm)
Credit Line
Solomon R. Guggenheim Museum, New York Solomon R. Guggenheim Founding Collection
Accession
47.1101
Copyright
Naum Gabo Nina & Graham Williams. Photo: Kathryn Carr © SRGF
Artwork Type
Movement
Naum Gabo became a leading exponent of Constructivism—which viewed space as a continuum rather than a monolithic volume—after returning to Russia following the Revolution of 1917. Born Naum Neemia Pevsner and younger brother of artist Antoine Pevsner, he had originally trained to be an engineer. While traveling in Europe, he studied building techniques and observed emerging modernist currents, both inspiring him to become a sculptor. In 1920, five years after he created and signed his first construction as "Gabo," he and Pevsner published in Moscow the "Realisticheskii manifest" ("Realistic Manifesto"), which articulated their theories on Constructivism and solidified Gabo's role as a pioneer of modern sculpture.
Gabo considered Column (ca. 1923), of which several versions exist, to be significant to his artistic development. For him, the work represented the height of his "search for an image which would fuse the sculptural element with the architectural element into one unit." Originally intended as a maquette for a monument that was never built, it was made after Gabo had immigrated to Germany. Rather than carving it out of a single block, he built Column up into space by means of a rational geometric vocabulary. The result is a virtually symmetrical sculpture composed of transparent and intersecting vertical planes, exposing the work's axial center.
Linear Construction in Space No. 1 (ca. 1945–46) further emphasizes Gabo's predilection for modern building supplies, as opposed to traditional ones like marble, clay, or bronze. The rigid Perspex frame with stretched nylon filaments, a design that characterizes Gabo's later spherical works, again creates the illusion of continuous depth. This work too exists in several reconstructions executed after the initial template, like the version now at the Guggenheim Museum. Gabo's duplication of forms and insistence on everyday materials is akin to the methodical processes of industrial production.
Ultimately, utopian ideals underscore Gabo's Constructivist works. Rejecting the past and freeing art from the imitation of nature, he believed that his sculptures helped build "more perfected social and spiritual life." His plastic sculptures are not just literally transparent in surface quality. In dematerializing mass and surface, he also meant to provide a conduit to a "new reality"—a universal reality. Strongly influenced by fellow artist Vasily Kandinsky, who promoted the spiritual nature of art making, Gabo aimed to produce objects that "appeal more to our minds and our feelings than to our crude physical senses."
Megan Fontanella