Artist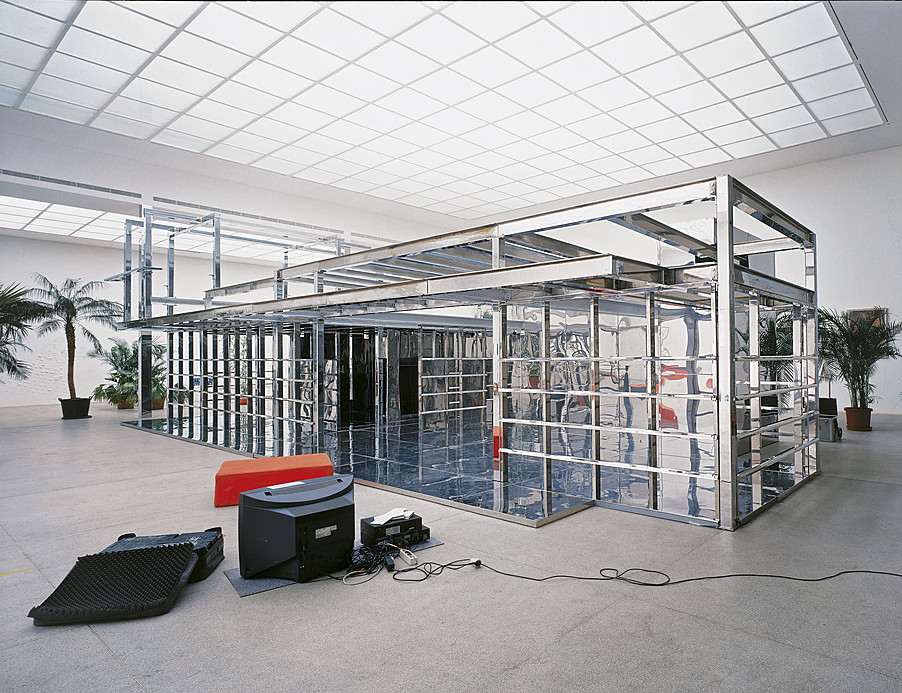 Rirkrit Tiravanija
untitled 2002 (he promised)
Artist
Rirkrit Tiravanija b. 1961, Buenos Aires, Argentina
Title
untitled 2002 (he promised)
Date
Medium
Chrome and stainless steel
Dimensions
approximately 116 x 472 x 236 inches (294.6 x 1198.9 x 599.4 cm)
Credit Line
Solomon R. Guggenheim Museum, New York Purchased with funds contributed by the International Director's Council and Executive Committee Members: Ruth Baum, Edythe Broad, Elaine Terner Cooper, Dimitris Daskalopoulos, Harry David, Gail May Engelberg, Shirley Fiterman, Nicki Harris, Dakis Joannou, Linda Macklowe, Peter Norton, Tonino Perna, Elizabeth Richebourg Rea, Mortimer D. A. Sackler, Simonetta Seragnoli, David Teiger, Ginny Williams, and Elliot K. Wolk, and Sustaining Members: Tiqui Atencio, Linda Fischbach, Beatrice Habermann, Miryam Knutson, and Cargill and Donna MacMillan; with additional funds contributed by American Express, 2004
Accession
2004.124
Copyright
Rirkrit Tiravanija. Photo: Matthias Herrman © Secession
Artwork Type
Since the early 1990s Rirkrit Tiravanija has aligned his artistic production with an ethic of social engagement, often inviting viewers to inhabit and activate his work. Prioritizing the experiential and participatory over the self-contained object, he blurs the lines between Conceptual, performance, and installation art. In one of his most well-known series, Tiravanija rejected traditional art objects altogether and instead cooked and served food for exhibition visitors. His work recalls Joseph Beuys's conception of performance as social sculpture and facilitates interactions between viewers that, although simple and playful, can demonstrate the necessary foundation for community-based political actions. For The Land (begun in 1998), a collaborative artistic, architectural, and environmental recovery project in Sanpatong, Thailand, residents and artists are welcomed to use a plot of land as a laboratory for development—cultivating rice, building sustainable houses, or channeling solar power.

Because they insist upon the viewer's participation, Tiravanija's interventions are contingent upon their context. The variability of his works across international borders maps the global expansion of the art world and mirrors the nomadic nature of the artist's own life. The son of a Thai diplomat, Tiravanija was born in Buenos Aires, raised in Thailand, Ethiopia, and Canada, and with studios around the world, sustains a peripatetic lifestyle.

While people remain central to his work, several of his projects incorporate reimagined physical structures or in his words, "parallel spaces" that operate as platforms for quotidian activity. Many of these spaces appropriate and transform the austere vocabulary of modernist architecture such as in Untitled: 1997 (Glass House) (1997). Erected in the Museum of Modern Art's sculpture garden, this work is a child-size version of Philip Johnson's famed Glass House (1949). Similarly, untitled 2002 (he promised) is a chrome and steel structure inspired by the modernist architect Rudolf M. Schindler's iconic Kings Road House in West Hollywood. While the structure exemplifies the spatial fluidity of Schindler's open-plan design, the reflective surfaces used to replace the wood and concrete of the original create what Tiravanija describes as "a multifaceted image of reality," enlivening and multiplying the activities taking place in and around the work. When installed, it becomes an arena for a variety of programs, including DJ sessions, film screenings, panels, and children's workshops. In search of a shared utopia of experience, this work, as all in Tiravanija's oeuvre, reconstructs space as a living organism, susceptible and amenable to the flux of participation.