Artist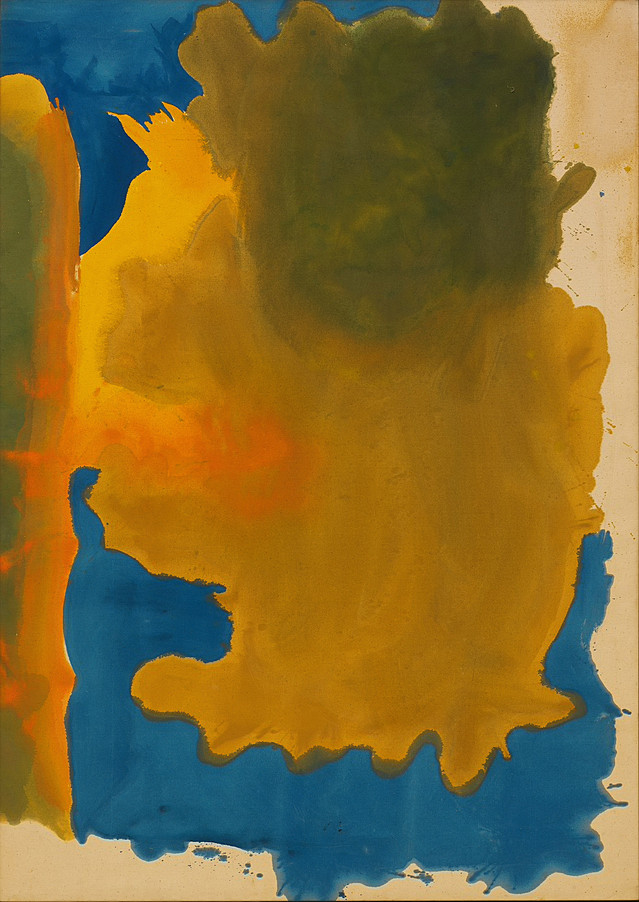 Helen Frankenthaler
Canal
Artist
Helen Frankenthaler b. 1928, New York City; d. 2011, Darien, Connecticut
Title
Canal
Date
Medium
Acrylic on canvas
Dimensions
81 x 57 1/2 inches (205.7 x 146 cm)
Credit Line
Solomon R. Guggenheim Museum, New York Purchased with the aid of funds from the National Endowment for the Arts, in Washington, D.C., a federal agency; matching funds contributed by Evelyn Sharp, 1976
Accession
76.2225
Copyright
2016 Helen Frankenthaler / Artists Rights Society (ARS), New York
Artwork Type
Movement
Helen Frankenthaler received an introduction to art making through her primary-school art teacher—the noted Mexican artist Rufino Tamayo. As a young woman she became acquainted with the New York art world under the guidance of the influential American formalist art critic Clement Greenberg, and she took a course in the summer of 1950 with the German painter Hans Hofmann, who had taught many artists associated with Abstract Expressionism. Her early work, all-over compositions dominated by amoeboid forms swirling in space, reflected the influence of Arshile Gorky, Hofmann, Vasily Kandinsky, Joan Miró, and Jackson Pollock.
Frankenthaler's 1951 encounter with Pollock's work had a major impact on her. His black-and-white ink works on paper of this period suggested to her the possibilities inherent in directly staining the surface of paper or canvas, and she began to explore how to dilute her oil paint to the consistency of watercolors. Like Pollock, she placed her unsized, unprimed canvas on the floor. She applied the paint using a coffee can with a hole cut in it, which allowed her to create puddles that could be left as is or spread on the surface. Fusing foreground and background, color and plane, Frankenthaler's "soak-stain" technique created a sense of space even as it emphasized the flatness of the picture plane. Her approach proved influential to Color Field painters including Morris Louis and Kenneth Noland, both of whom visited Frankenthaler's studio in 1953, where they saw her first soak-stain painting, Mountains and Sea (1952).
Often understood through the writings of Greenberg—who was responsible for taking Noland and Louis to her studio and who once owned Canal (1963)—Frankenthaler's soak-stain paintings can be read as embodiments of the flatness of the picture plane and opticality, which Greenberg regarded as the most important characteristic of modernist painting. Greenberg thought that Frankenthaler's use of color overcame the tactility of the picture plane and consequently produced a "purely optical" experience of painting. In soaking the canvas in color, Frankenthaler brought painting into the realm of pure vision. However, others have argued that her thinned-down colors, devoid of their glossy coating, actually called attention to the texture of the canvas.
Frankenthaler painted The Bay, Low Tide, Blue Tide, Blue Causeway, Canal, and other water-inspired canvases in 1963, when she divided her time between New York and her summer home in Provincetown, Massachusetts. In Canal, several large, irregular areas of color interlock and, in places, flow together. The work's forms stain most of the canvas, leaving much of the bottom and right-hand edges raw and untouched. Here Frankenthaler's all-over color field differs from her practice of only two years earlier, when she centered smaller abstract images on expanses of raw canvas, creating shapes that are more clearly representational than the flattened, flowing forms of Canal. This change coincided with the artist's 1962 shift from oil-based to acrylic paints. In adapting her stain techniques to the new medium, Frankenthaler created shapes in semi-transparent, atmospheric tones and in brilliant, dense color with distinct and strong edges. She allowed for accident and intuition while controlling the interplay of form, color, and space.