Artist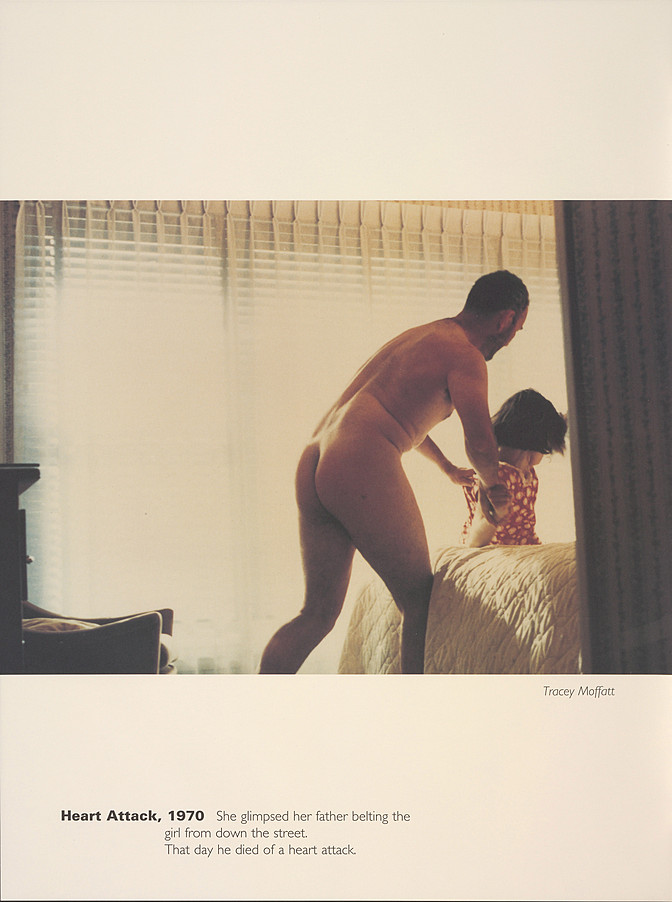 Tracey Moffatt
Heart Attack, 1970
Artist
Tracey Moffatt b. 1960, Brisbane, Australia
Title
Heart Attack, 1970
Date
Medium
Offset lithograph
Dimensions
31 1/2 x 23 1/2 inches (80 x 59.7 cm)
Edition
A.P., edition of 50
Credit Line
Solomon R. Guggenheim Museum, New York Purchased with funds contributed by the Photography Committee and the International Director's Council and Executive Committee Members: Ruth Baum, Edythe Broad, Elaine Terner Cooper, Dimitris Daskalopoulos, Harry David, Gail May Engelberg, Shirley Fiterman, Nicki Harris, Dakis Joannou, Rachel Lehmann, Linda Macklowe, Peter Norton, Tonino Perna, Elizabeth Richebourg Rea, Mortimer D.A. Sackler, Simonetta Seragnoli, David Teiger, Ginny Williams, and Elliot K. Wolk, and Sustaining Members: Tiqui Atencio, Linda Fischbach, Beatrice Habermann, Miryam Knutson, and Cargill and Donna MacMillan, 2004
Accession
2004.76.4
Copyright
Tracey Moffatt
Artwork Type
Initially trained as a filmmaker, Tracey Moffatt has shifted back and forth between moving pictures and still photography since the late 1980s. With each new series, she has adjusted her style and technique, producing a diverse body of work that ranges from surreal fantasies to ersatz documentary reportage, from videos and photographs saturated with exaggerated color to grainy black-and-white photogravures. An interest in artifice unites her multiform production. Like a number of artists of her generation, Moffatt rejects transcribing reality in favor of constructing her own, alternative reality. She has been highly receptive to the strategies of popular culture—to cinema, television, magazines, and advertising.
Many of Moffatt's works address themes relating to her native Australia, particularly race relations between Aborigines and whites. In Night Cries: A Rural Tradegy (1989), the first film that won her widespread attention, Moffatt focused on the complex relationship between an adult Aboriginal woman and her dying white foster mother. This piece refers to Australia's "stolen generation"—the thousands of Aboriginal children who were removed from their families and placed into white households up through the 1960s—land is partly rooted in Moffatt's own childhood experience; half-Aboriginal, she was herself raised by a white foster family in Brisbane. But Moffatt rejects autobiographical readings of her work as reductive. Her work engages larger, more universal themes of race, sexuality, identity, and family.
Scarred for Life (1994) one of Moffatt's best-known series, comprises nine images featuring children or adolescents, both Aboriginal and white, in suburban settings. Each image records a different trauma inflicted by parents or by older siblings, from verbal to physical abuse. The individuals pictured are actors, selected and arranged by the artist, but Moffatt places them within a documentary format: the staged tableaux, which are printed as photolithographs in muted colors on cream paper and accompanied by short, neutral captions, simulate pages of Life magazine from the 1960s. This deadpan journalistic presentation is jarringly at odds with the deeply intimate, often painful subject matter. At the same time, the images have an informal, snapshot appearance and cover a broad range of past dates (from 1956 to 1977) as if they were pages from a family photo album. A series of deliberately ambiguous and open-ended mini-narratives, Scarred for Life evokes the fragmented nature of memory and, as implied in the title, the way in which injuries from our childhood years remain with us throughout our adult lives.
—Ted Mann