Artist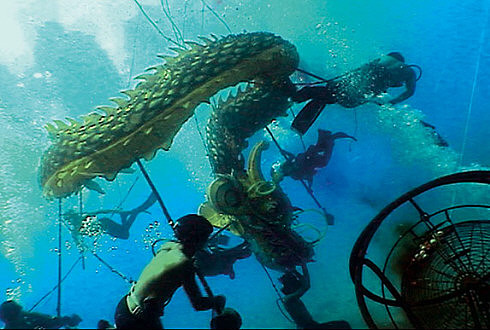 Jun Nguyen-Hatsushiba
Happy New Year - Memorial Project for Vietnam II
Artist
Jun Nguyen-Hatsushiba b. 1968, Tokyo
Title
Happy New Year - Memorial Project for Vietnam II
Date
Medium
Color video, with sound, 15 min.
Dimensions
dimensions variable
Edition
edition 5/6
Credit Line
Solomon R. Guggenheim Museum, New York Purchased with funds contributed by the International Director's Council and Executive Committee Members: Ruth Baum, Edythe Broad, Elaine Terner Cooper, Dimitris Daskalopoulos, Harry David, Gail May Engelberg, Shirley Fiterman, Nicki Harris, Dakis Joannou, Rachel Lehmann, Linda Macklowe, Peter Norton, Tonino Perna, Elizabeth Richebourg Rea, Mortimer D. A. Sackler, Simonetta Seragnoli, David Teiger, and Elliot K. Wolk, 2003
Accession
2003.75
Copyright
Jun Nguyen-Hatsushiba
Artwork Type
Jun Nguyen-Hatsushiba's spectacular series of three films, Memorial Project Vietnam, were shot entirely underwater in the Indochina Sea. Nguyen-Hatsushiba's ongoing body of work explores Vietnamese history and identity through otherwordly enactments of cultural rituals. In one "Memorial" work, cyclo drivers conduct a silent, slow-motion race across the sea floor, periodically rushing back and forth to the surface for air as their course becomes more arduous. The cyclo symbolizes Vietnam both in the popular tourist imagination and in reality, as these vehicles still serve as practical modes of transport. For Happy New Year—Memorial Project Vietnam II, a New Year's dragon puppet is buoyed along by seven divers beneath sun-dappled water as small balls are randomly shot upward like fireworks, exploding into colored powder when they reach the surface. But the dazzling visual poetry of Nguyen-Hatsushiba's films does not overshadow their profound political content. Happy New Year refers to the brutal Tet Offensive, launched on the eve of the lunar New Year in 1968, and the balls represent the souls of the many Vietnamese "boat people" who tried to flee after the war and perished at sea.
Meghan Dailey