Artist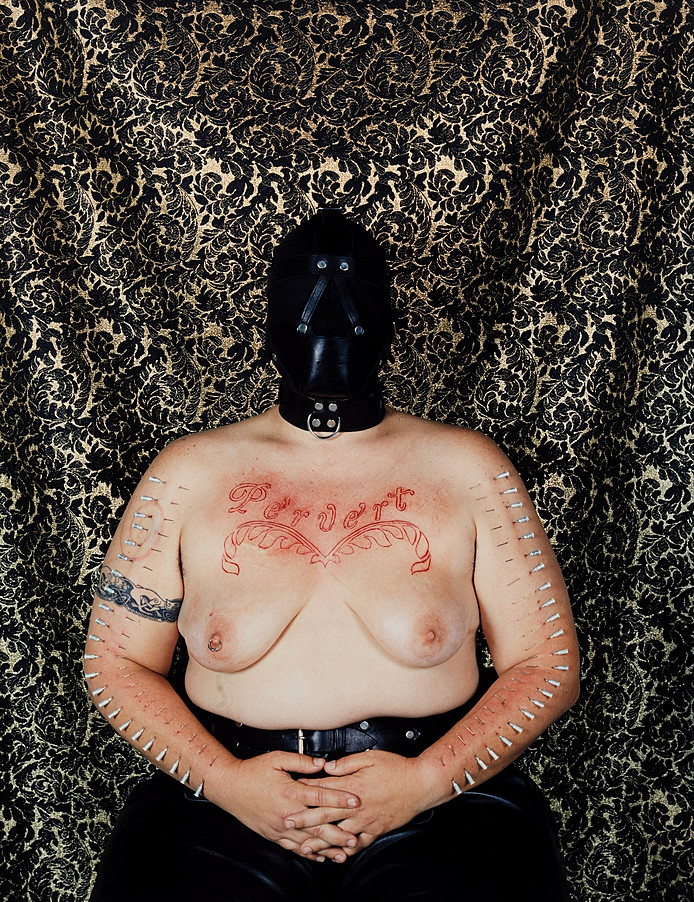 Catherine Opie
Self-Portrait/Pervert
Artist
Catherine Opie b. 1961, Sandusky, Ohio
Title
Self-Portrait/Pervert
Date
Medium
Chromogenic print
Dimensions
40 inches x 29 7/8 inches (101.6 x 75.9 cm)
Edition
A.P. 2/2, edition of 8
Credit Line
Solomon R. Guggenheim Museum, New York Purchased with funds contributed by the Photography Committee, 2003
Accession
2003.68
Copyright
Catherine Opie
Artwork Type
Catherine Opie counts such documentary photographers as Eugene Atget, August Sander, Berenice Abbott, Walker Evans, Lewis Hine, and Dorothea Lange among her greatest historical influences. In fact, she described herself in a 1994 Los Angeles Times article as a "kind of twisted social documentary photographer." Long before earning her MFA at the California Institute of the Arts in 1988, she found that photography was perfectly suited to her drive to describe the world and people around her—a drive that unifies all her projects to date, whether focused on gender and sexual identities, notions of community, or the myth of the American dream.
Opie's first well-known series, Being and Having (1991), consists of headshots of Opie's female friends sporting false facial hair to suggest the fluidity and complexity of gender. She followed this in the mid-1990s with the Portraits series, in which she photographed transgender women and men, drag queens, and leather dykes with great solemnity and formality, thereby using historical norms of studio portraiture to upend heterosexual norms of identity and sexuality. Although for many viewers these subjects represent the exotic "other," Opie's photographs visually resist such simplistic voyeurism through their controlled composition, regal poses, and lush studio backdrops.
Throughout her career, Opie has photographed the landscape around her with the same dignity and elegance, capturing the arc of a deserted strip of freeway or the commonplace stretch of a mini-mall in Los Angeles. Each photograph retains the trace of a human presence, suggesting that the space need only be repopulated to serve its purpose, to ward off decay. In 1998, Opie traveled cross-country in her motor home for two months in order to photograph lesbian couples. This series, called Domestic—of which Melissa & Lake, Durham, North Carolina is an example—presents these couples involved in everyday, household activities: relaxing in their backyard, hanging out in their kitchen, playing with their children. There is no sensationalism here. Much like the formal studio portraits before them, these intimate photographs speak both to Opie's identification with her subjects and to the overwhelming absence of such images in mainstream representations.