Artist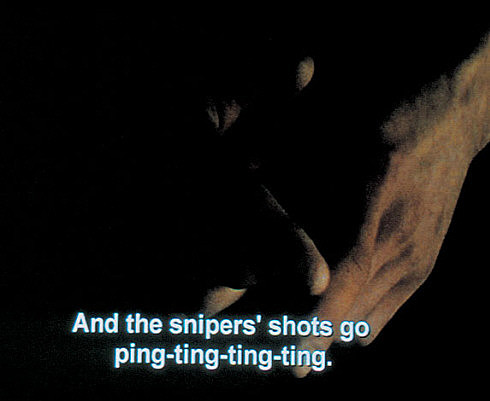 Anri Sala
Nocturnes
Artist
Anri Sala b. 1974, Tirana, Albania
Title
Nocturnes
Date
Medium
Color video installation, with sound, 11 min., 28 sec.
Dimensions
dimensions variable
Edition
A.P. 1/2, edition of 6
Credit Line
Solomon R. Guggenheim Museum, New York Purchased with funds contributed by the International Director's Council and Executive Committee Members: Ruth Baum, Edythe Broad, Elaine Terner Cooper, Dimitris Daskalopoulos, Harry David, Gail May Engelberg, Shirley Fiterman, Nicki Harris, Dakis Joannou, Linda Macklowe, Peter Norton, Tonino Perna, Elizabeth Richebourg Rea, Mortimer D.A. Sackler., Simonetta Seragnoli, David Teiger, and Elliot K. Wolk, 2003
Accession
2003.58
Copyright
Anri Sala
Artwork Type
In Anri Sala's films, personal stories are intertwined with larger political and social narratives. Many of the artist's works make reference to his family while referring to past and present conditions in Albania, where he grew up. For Intervista—Finding the Words (1998), Sala, with the help of a lipreader, re-created the lost audio portion of a filmed interview his mother had given in the late 1970s as a member of the Communist Youth Party in Albania. In Sala's film mother and son are seen viewing the original tape together. As his mother is confronted with the past and her words, she wonders with astonishment at how she could so earnestly spout party rhetoric. Although the film depicts a moment of nostalgic reassessment more than culpability or disavowal, it makes a powerful comment on the lines between fact and fiction, and the intermingling of family and country.
Although many of Sala's works address personal histories—his own and those of others—their themes of trauma, loss, and recovery are universal. Using tropes of both documentary and fictional filmmaking, Nocturnes (1999) approaches these themes in an uneasy exploration of insomnia and personal isolation. The film offers a brief but telling glimpse into the lives and psyches of two men Sala met while studying art in Turcoing, France: Jacques, who collects and obsessively cares for thousands of fish, and Denis, who copes with disturbing memories of his service as a United Nations peacekeeper in Bosnia by playing violent video games.
The film cuts between shots of Turcoing's streets at night and the two men as they describe their nighttime activities. With his face dimly lit by the artificial glow of purplish aquarium lights, Jacques speaks of his fish population as if it were a metaphor for the darker side of human society. When you introduce a new fish into a tank, he explains, you must do it gently and slowly, so the others won't kill the newcomer. As Denis describes his terrifying wartime experiences, we never see his face, only his hands. After killing people, "You can't live normally," he says. At the controls of his Sony PlayStation, Denis immerses himself in a still violent but fictional activity that fills hour after sleepless hour. As the film progresses, Jacques's and Denis's stories, and thus their identities, become less distinct from one another. These young men, outsiders both, derive a sense of power and purpose by controlling artificial situations, but their lives remain touched by anxiety and loneliness.