Artist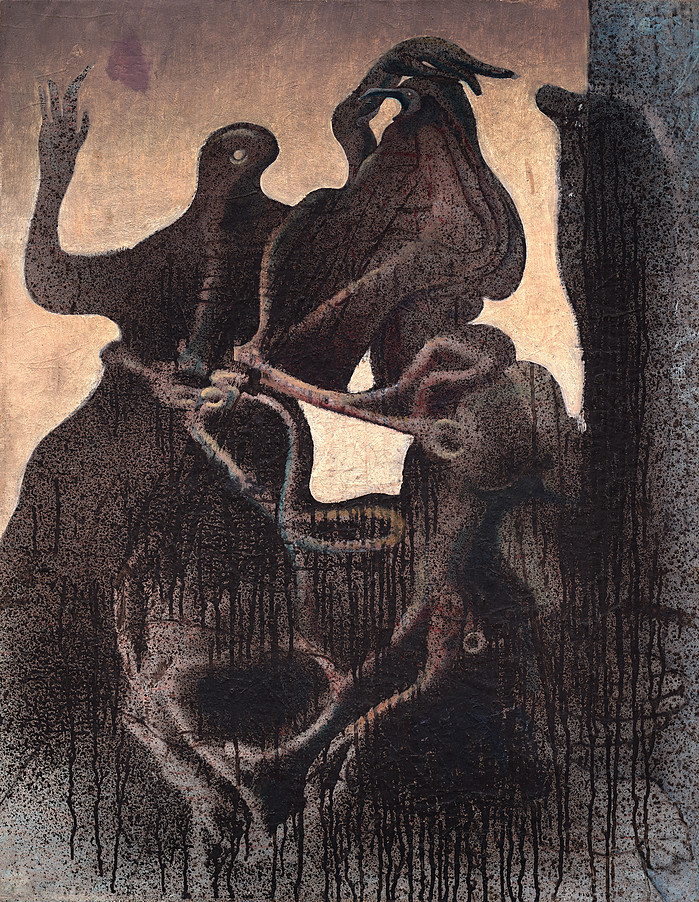 Max Ernst
Zoomorphic Couple
Artist
Max Ernst b. 1891, Brühl, Germany; d. 1976, Paris
Title
Zoomorphic Couple
Date
Medium
Oil on canvas
Dimensions
36 1/4 x 28 7/8 inches (91.9 x 73.3 cm)
Credit Line
The Solomon R. Guggenheim Foundation Peggy Guggenheim Collection, Venice, 1976
Accession
76.2553.75
Copyright
2016 Artists Rights Society (ARS), New York/ADAGP, Paris
Artwork Type
Movement
By 1925 Max Ernst had developed his frottage (rubbing) technique, which he associated with a childhood memory of accidental forms materializing within the grooves of wooden floorboards. He also acknowledged the influence of his later discovery of Leonardo da Vinci's Treatise on Painting, in which artists are advised to gaze at the stains on walls until figures and scenes emerge. In the Hordes series of 1926–32 Ernst placed twine beneath his canvases and then rubbed pigment over their surfaces. The meanderings of the twine were thus revealed; these chance configurations were then manipulated to elicit imagery. In Zoomorphic Couple, the appearance of light, sinuous channels through dark painted areas produces a relieflike effect suggestive of frottage. However, the artist created the effect here by putting paint-laden string or rope on top of the canvas and spraying over it. The image of the bird, which recurs frequently in Ernst's work from 1925, had become an almost obsessive preoccupation by 1930. In the present painting one can discern a vaguely birdlike form and a caressing humanoid arising from the primordial material that gives them their substance. It has been suggested that the atavistic imagery in Ernst's work of this period alludes to the failure of European civilization in the face of the rising National Socialist threat in Germany.¹ (Ernst was blacklisted by the party in 1933 when Hitler became Chancellor of the Third Reich.) Though a sensitivity to the current political climate may be inferred, it is not confirmed by anecdotal detail. The forms have the effect of dream or poetic apparition.
The sense of genesis and evolutionary stirrings in Zoomorphic Couple is complemented by the creative inventiveness of the artist, who combines layers of pastel color under spattered, blown, and dripped paint.
Lucy Flint
1. U. M. Schneede, Max Ernst, New York and London, 1972, p. 134.