Artist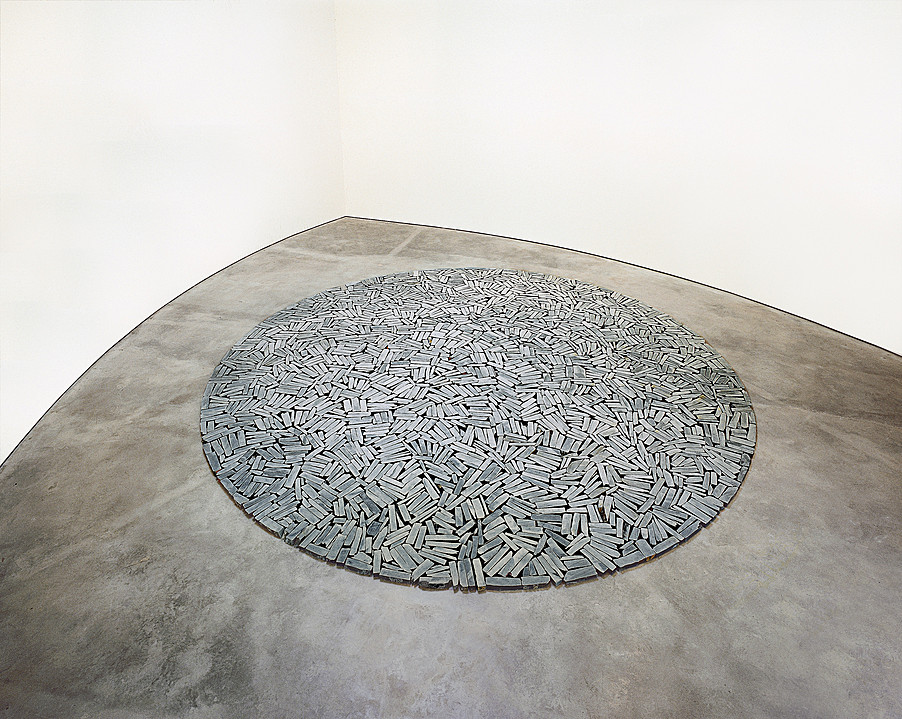 Richard Long
Bilbao Circle (Bilboko zirkulua)
Artist
Richard Long b. 1945, Bristol, UK
Title
Bilbao Circle (Bilboko zirkulua)
Date
Medium
Delabole slate
Dimensions
511 feet 13/16 inches (13 m) diameter
Credit Line
Guggenheim Bilbao Museoa
Accession
GBM2003.5
Copyright
2012 Artists Rights Society (ARS), New York / DACS, London. Photo: Erika Barahona-Ede
Artwork Type
Movement
To create his art, Richard Long walks hundreds of miles for days, even weeks at a time, through uncultivated areas of land: the countryside of England, Ireland, and Scotland; the mountains of Nepal and Japan; the plains of Africa, Mexico, and Bolivia. He documents these journeys with captioned large-scale photographs, maps, and lists of descriptive terms, which are exhibited as individual works. While traveling, Long sets specific tasks for himself, such as traversing an absolutely straight line for a predetermined distance, following the side of a river wherever it may lead, or picking up and then dropping stones at certain intervals along the way. While on these trips, the artist interacts with the landscape by creating modest sculptures from indigenous materials, thus attesting to his presence in the land. Circles or lines—Long's signature motifs—rubbed into the ground by repeated footprints or composed of assembled stones, driftwood, or seaweed are eventually dissolved by the wind, rain, and rising tides, thus negating human dominance over nature. His photographs remain the only evidence of these organic sculptures after erosion has run its course.
Long translates his deeply personal experiences in the wilderness into sculptures and mud drawings that are created for exhibition spaces and private collections. Pieces composed of flint, slate, feathers, pine needles, sticks, and other rustic materials become metaphors for the paths taken on his ramblings: the spirals, circles, and lines, if extended beyond the gallery walls, would trace actual distances traveled by the artist. The sculptures are not, therefore, representations of nature per se but rather aesthetic documents of Long's engagement with the land and poetic evocations of the beauty and grandeur of the earth.
Such is the case with Red Slate Circle (1980), which consists of 474 stones from a New York State quarry. When it is installed in the Guggenheim's rotunda, the monumental ring echoes the building's unique spiral while conjuring images of vast canyons, still lakes, and stone pathways leading into the distance. Bilbao Circle (2000), originally created for the Guggenheim Museum Bilbao, uses slate stones quarried in historic Delabole, a village in Cornwall that boasts the oldest working slate quarry in England. Walking around the sculptures viewers reenact in part the artist's own perambulations. When viewed from above, the works are reminiscent of the mysterious large-scale crop-circles or prehistoric rock formations, such as Stonehenge, that hint at interventions from some other world. The artist has even created pieces related to specific ancient sites in England, including the Cerne Abbas Giant, the Long Man, and Silbury Hill. All Long's works evoke a time characterized by a more spiritual interaction between man and landscape.