Artist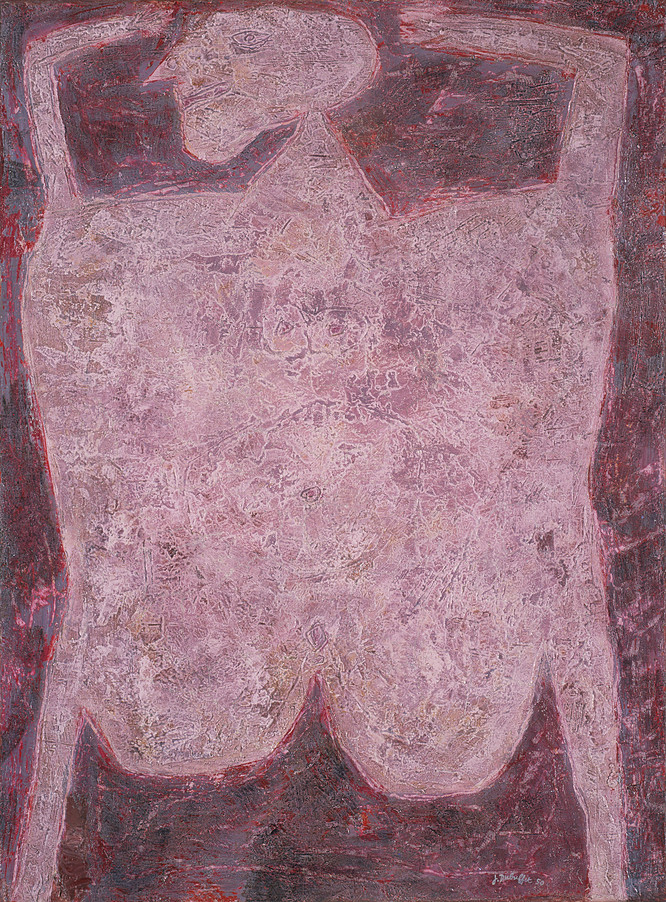 Jean Dubuffet
Triumph and Glory (Triomphe et gloire)
Artist
Jean Dubuffet b. 1901, Le Havre, France; d. 1985, Paris
Title
Triumph and Glory (Triomphe et gloire)
Date
Medium
Oil on canvas
Dimensions
51 x 38 inches (129.5 x 96.5 cm)
Credit Line
Solomon R. Guggenheim Museum, New York
Accession
71.1973
Copyright
2016 Artists Rights Society (ARS), New York/ADAGP, Paris
Artwork Type
Movement
A grotesque male nude dominates Will to Power, his gritty roughness, burly proportions, inlaid stone teeth, and glass fragments for eyes giving him a fierce and threatening air. But the figure's aggressive machismo is itself threatened by the very stance he assumes: hands held behind the back, his gesture is either one of unexpected receptivity or of helpless captivity. The title refers to a central tenet of Nazi ideology, taken from the philosophy of Friedrich Nietzsche. But in a single deft stroke, Dubuffet's caricature mocks Fascism's claims to authority as it emasculates romanticized male aggression.
Dubuffet's painting style, which he called Art Brut (raw art), was contrary to everything expected of a painter in the French tradition and dealt a serious blow to the usual aesthetic assumptions. Inspired by graffiti and art made by the mentally ill, Dubuffet insisted that his protest was against specious notions of beauty "inherited from the Greeks and cultivated by magazine covers." In Triumph and Glory, the female nude—treated by most artists with veneration—receives no more charitable treatment than her male counterpart in Will to Power. One of 36 female nudes known as the Corps des dames series, she lacks psychological presence and personal identity, and could easily be perceived as an abomination.
While the art of "primitive" cultures and unschooled practitioners was of special importance to Dubuffet, he was also interested in a disparate array of found objects and materials. Door with Couch Grass, an assemblage of several paintings that he cut down and pieced together to represent a wall, doorstep, and the ground, typifies his insatiable interest in found patterns, textures, and materials. The extraordinary range of techniques that Dubuffet employed in this work includes creating successive layers of paint by shaking a brush over the painting and covering it with a spray of tiny droplets, scattering sand over the surface, and scratching it with the tines of a fork. In his attempt to rehabilitate values and materials dismissed by Western aesthetics, what mattered to Dubuffet was unbridled energy, spontaneity, and truth to self—and with them, a spirit of insubordination and impertinence.
Jan Avgikos