Artist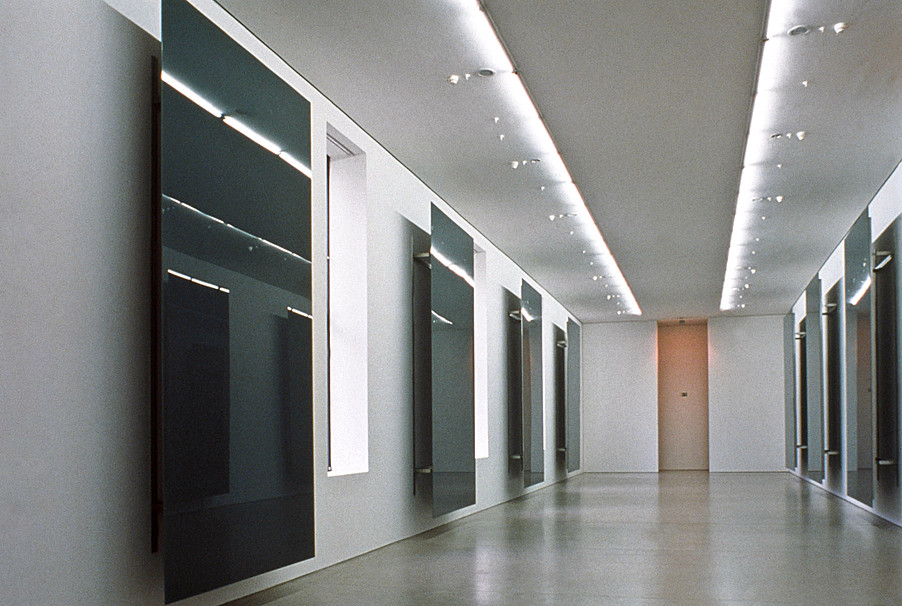 Gerhard Richter
Eight Gray (Acht Grau)
Artist
Gerhard Richter b. 1932, Waltersdorf-Oberlausitz, nr Dresden, Germany
Title
Eight Gray (Acht Grau)
Date
Medium
Enamel on eight mirrors
Dimensions
16 feet 4 7/8 inches x 8 feet 10 5/16 inches (500 x 270 cm) each
Credit Line
Solomon R. Guggenheim Museum, New York Commissioned by Deutsche Bank AG in consultation with the Solomon R. Guggenheim Foundation for the Deutsche Guggenheim, Berlin
Accession
2005.75
Copyright
Gerhard Richter. Photo: Matthias Schormann
Artwork Type
Gerhard Richter has stated, "I am suspicious regarding the image of reality which our senses convey to us and which is incomplete and limited," and his insistence on the illusionistic nature of painting has led to a painterly practice that underscores the mediated experience of reality by incorporating imagery based on found and familiar photographs. Atlas, a vast compilation of such imagery begun in 1962 and expanded over the years, is testimony to the importance of photography within Richter's oeuvre. From the artist's perspective, photographs provide a pretext for a painting, injecting a measure of objectivity and eliminating the processes of apprehension and interpretation. While not based on a specific photographic source, the mirrorlike forms of Passage, with their muted gray and white palette and formal austerity, lack any emotive presence, a trait that is in keeping with the artist's efforts to question and demystify the traditions of high culture.
In Seascape, Richter combines various tropes of painting and photography to create a kind of representational problem: how and when does the eye sense the difference between a painted surface and the photographically recorded? In this seemingly conventional, large-scale work, the pigment is thinly applied, resulting in a surface that emulates the flatness of a photograph. And, like a snapshot might be, it is blurred, literally obscuring the distinction between the photographic and the painted. Here Richter draws from sources both traditional (the moody, atmospheric landscapes of German, Romantic painter Casper David Friedrich) and popular (vacation snapshots) to achieve this meditation on the nature of looking.
While Seascape makes reference to a half-captured moment, the tinted panels of Eight Gray reflect a shadowy, perpetually shifting image. The eight enameled monochromes of this commission for the Deutsche Guggenheim Berlin exist somewhere between painting, sculpture, and architecture. Installed in relation to the vertical gallery windows, the opposing rows of colored mirrors can be individually tilted at various angles to produce an endless sequence of reflections of interior and street views, confusing pictorial and actual space. Richter's choice of gray denies the possibilities for association, differentiation, or interpretation. At once opaque and reflective, Eight Gray is simultaneously abstract and representational, presenting a monochromatic field as well as a reflected likeness of the viewer that emphasizes individual perceptions over a predetermined, unified experience.