Artist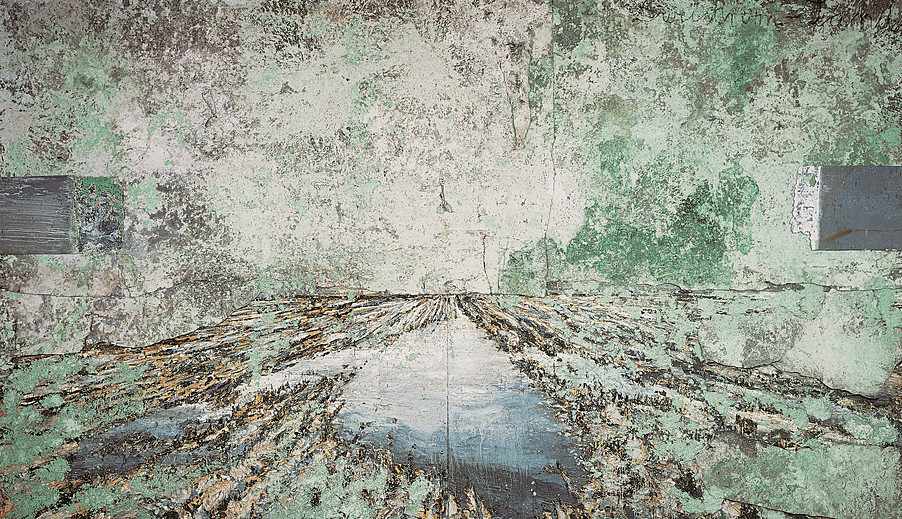 Anselm Kiefer
The Land of the Two Rivers (Zweistromland)
Artist
Anselm Kiefer b. 1945, Donaueschingen, Germany
Title
The Land of the Two Rivers (Zweistromland)
Date
Medium
Emulsion, acrylic, lead, salt (produced by electrolysis using a zinc-plate condenser)
Dimensions
13 feet 7 3/4 inches x 23 feet 3 1/2 inches (416 x 710 cm)
Credit Line
Guggenheim Bilbao Museoa
Accession
GBM1996.9
Copyright
Anselm Kiefer
Artwork Type
Movement
During the 1980s, Anselm Kiefer became one of the foremost representatives of Neo-Expressionism, an approach characterized by violent, gestural brushwork and a return to the personal. His large-scale works, infused with references to both the German romantic tradition and his country's political heritage, combine a nearly monochromatic palette with mixed media, including the application of materials such as strips of lead, straw, plaster, seeds, ash, and soil. The result is an oeuvre whose monumental scale and rich interplay of textures heighten the solemnity and transcendental nature of its contents.
When the Berlin Wall fell in 1989, it seemed that the long period of national mourning might finally be over. Kiefer left Germany, settling first in New York and then in the South of France, without producing any significant works for around three years. After two decades of dealing almost exclusively with the horrors of the Holocaust and Germany's Nazi past, Kiefer began to explore a more universal set of themes, still based on religion, myth, and history, but now focusing on the spirituality of man and the internal workings of the mind. The artist's subject matter changed markedly and ranged from the sunflowers of Arles to the queens of France. In a series of works devoted to French female royalty, Kiefer paid homage to the likes of Catherine de' Medici, Marie Antoinette, and Anne d'Autriche. In Les Reines de France, the women are rendered like Byzantine icons against a background of distressed gold-leaf mosaic. This new iconography, while still engaged with the weight of history, indicates that Kiefer now approached his subject matter with admiration, even joy.
The color of lead—a "support for ideas" in Kiefer's words—stands out in his painting The Land of the Two Rivers (Zweistromland). This monumental work features an inscription with the names of the rivers Tigris and Euphrates, a reference to the Mesopotamian civilization, in whose banks settled some of the most ancient peoples in humankind. Records have gone beyond the decay and ruins of these cultures and have made their past a present in this painting. The Land of the Two Rivers was preceded by a sculpture with the same title where books made of lead conveyed a sense of history's durability.