Artist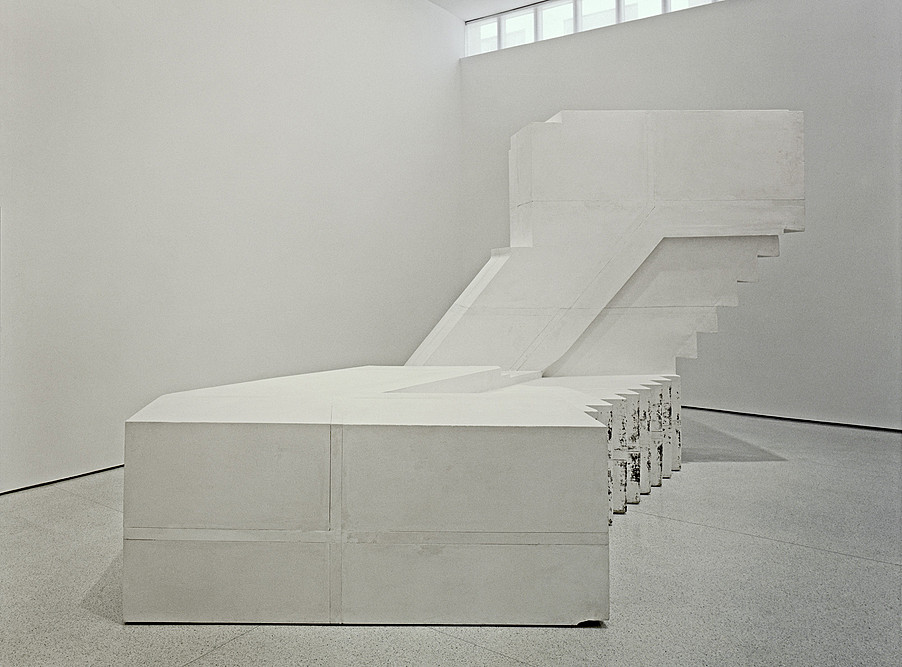 Rachel Whiteread
Untitled (Basement)
Artist
Rachel Whiteread b. 1963, London
Title
Untitled (Basement)
Date
Medium
White robust plasticized plaster
Dimensions
10 feet 8 inches x 21 feet 7 inches x 12 feet 1 inches (325.1 x 657.9 x 368.3 cm)
Credit Line
Solomon R. Guggenheim Museum, New York Commissioned by Deutsche Bank AG in consultation with the Solomon R. Guggenheim Foundation for the Deutsche Guggenheim, Berlin
Accession
2005.119
Copyright
Rachel Whiteread. Photo: Ellen Labenski
Artwork Type
Working almost exclusively with various casting techniques, Rachel Whiteread draws solid form from the hollows of everyday life: the space around a bathtub or inside an empty closet, the full volume of a living room, or her studio. The resulting fiberglass, plaster, concrete, and rubber impressions often recall the spare formal vocabulary of Minimalism and the scale of monumental sculpture. Yet, her objects counter traditional monuments' demands for permanence. Indices of absent objects and structures, they archive what has been lost, destroyed, or rendered invisible by processes both physical and social.

For her early work, Whiteread drew directly from the familiar. Casts of household objects and spaces, these works often bear the traces of unnamed bodies, functioning as abject stand-ins for the human. In later sculptures, she used this method of representation and replacement to uncover how various spaces and the political forces they represent, manipulate or repress historical memory. For Holocaust Memorial (2000) in Vienna, Whiteread made a negative cast of the interior of a fictional library, replete with positive casts of books lining the exterior of its fortresslike, concrete-block core. A memorial to the tens of thousands of Austrian Jews murdered during the Holocaust, the permanent sculpture also turns on the present, pointing to what has been excluded from Austria's official history books. The winning submission to the memorial competition, her proposal drew objections on both local and national levels, revealing both a widespread refusal to come to terms with the nation's complicity in the atrocities of World War II and an enduring strain of anti-Semitism in Austrian politics. It took five years to build.

The recording of historical trauma also takes center stage in Whiteread's Untitled (Apartment) and Untitled (Basement): to-scale negative casts of a room and basement stairwell in her then newly acquired studio in London. The building was originally a Baptist church, then in the early 1900s, a synagogue. Bombed during World War II, the temple was rebuilt in the mid-1950s but later closed, allowing a textile company to occupy the building until Whiteread moved in. Her sculptures, cast using plasticized plaster to produce generic, uninflected abstract forms, reveal none of the specificities of their source architecture, mirroring the history of a site grounded on loss and repurposing. Rather than recuperate the individual lives and stories that once filled this space, Whiteread's diptych is a declaration of irrecoverable absence and in this way, speaks to a more universal condition of remembering in the 21st century.