Artist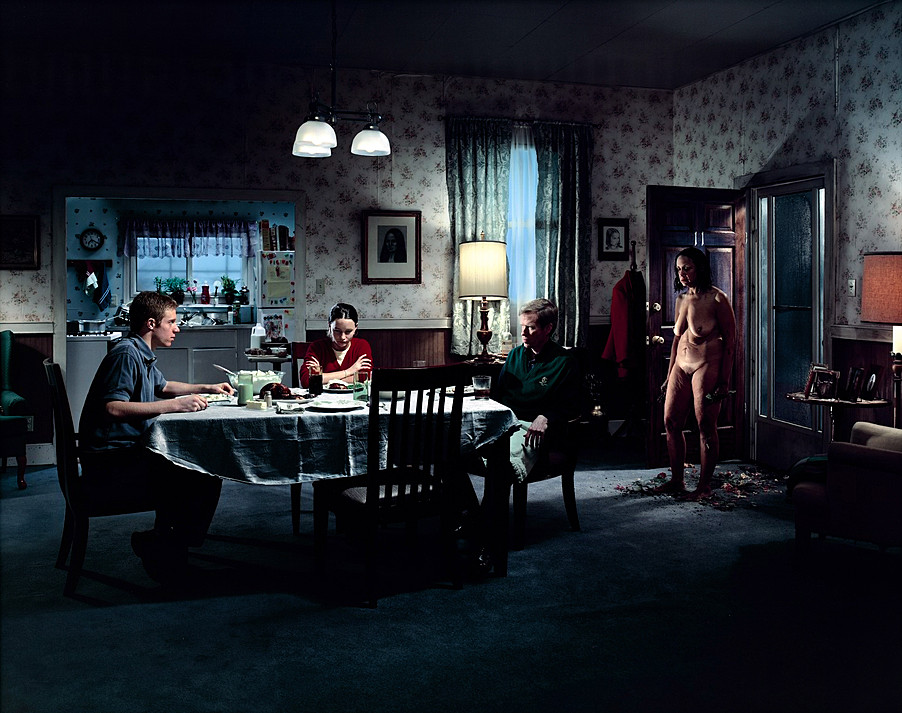 Gregory Crewdson
Untitled
Artist
Gregory Crewdson b. 1962, Brooklyn, New York
Title
Untitled
Date
Medium
Chromogenic print
Dimensions
48 x 60 inches (121.9 x 152.4 cm)
Edition
A.P. 2/3, edition of 10
Credit Line
Solomon R. Guggenheim Museum, New York Purchased with funds contributed by the Photography Committee, 2002
Accession
2002.30
Copyright
2001 Gregory Crewdson
Artwork Type
In Gregory Crewdson's photographs, suburban America is besieged by inexplicable, uncanny occurrences. His elaborately staged panoramas often elicit comparisons to the films of Alfred Hitchcock, David Lynch, and Steven Spielberg. Although he eschews the clarity of narrative film, Crewdson engages with his material as a director might, going to great lengths to construct fictional realms, recently employing a crew of up to thirty-five to help realize his cinematic visions.
In Crewdson's work, meaning is kept just out of reach, where it lurks like a repressed trauma. His early Natural Wonder series (1992–97) focused on wildlife—birds, worms, and insects—forced to the edges of suburbia. These scenes take on the air of mysterious rituals. In one photograph, several birds have created a circular clearing in the grass and lined it with their speckled eggs, over which they stand guard. In another image, dozens of butterflies converge in a frenzied mass, smothering whatever lies beneath them. These ambiguous activities go entirely unnoticed by people, although a human presence is often suggested in the photographs by placid houses in the background. In his series Hover (1996–97), Crewdson turns to the human realm and explores its darker aspects. Abandoning the close-up views of Natural Wonder for higher, more expansive camera angles, these black-and-white photographs offer glimpses into private backyard sanctums in which disturbing acts occur: a man kneels over a woman who has collapsed and is inexplicably bound by festive balloons; elsewhere, a man obsessively mows his lawn in ever-larger concentric circles.
Crewdson's most recent series, Twilight (1998–2002), returns to those uncanny suburban motifs, staging them in a more elaborate manner. These dark-toned images are illuminated by shafts of light, as if from some outside force making contact with the inhabitants of the pictured world. In Untitled (pregnant woman/pool) (1999), a woman stands in a small inflatable swimming pool as celestial beams of light shine prophetically on her pregnant belly. The characters often seem lost in internal reverie, like the family members at dinner confronted by their naked mother coming in from the garden. They share physical space but are emotionally lost to one another. The Twilight photographs are self-consciously staged, yet the sense of drama and mystery permeating the scenes compels viewers to overlook this artifice. Like all the artist's work, these images suggest that at the heart of the American dream of property and privacy, emerging where least expected, darkness lurks.