Artist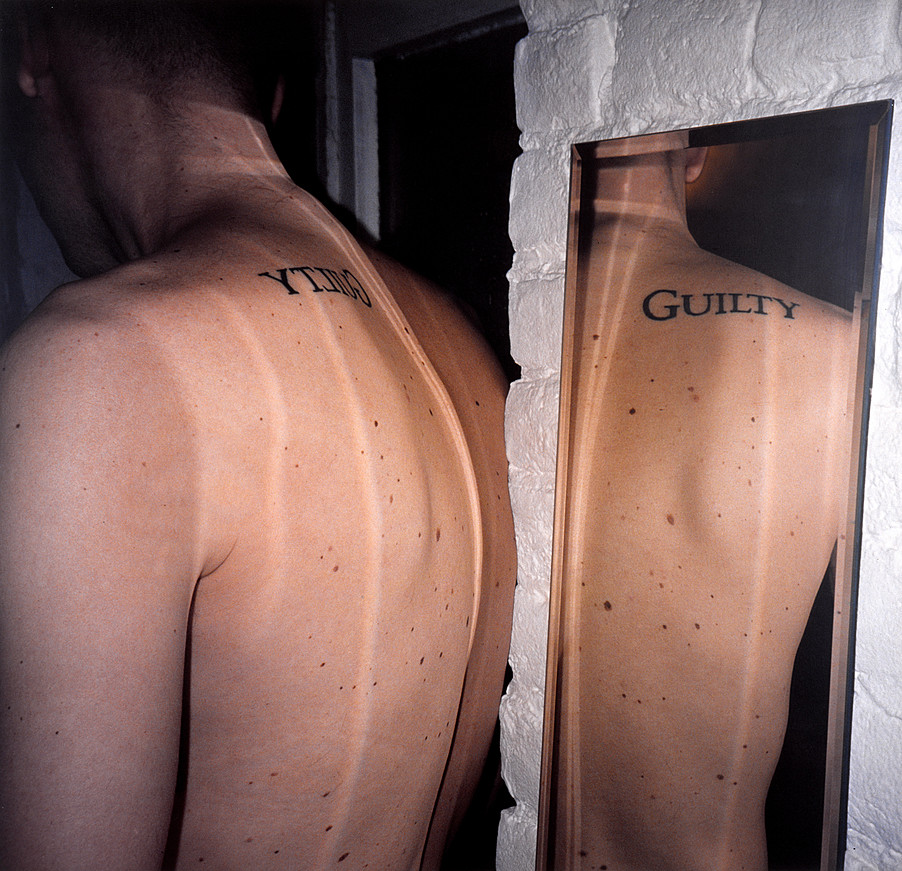 Douglas Gordon
Tattoo (for Reflection)
Artist
Douglas Gordon b. 1966, Glasgow, Scotland
Title
Tattoo (for Reflection)
Date
Medium
Chromogenic print
Dimensions
27 1/4 x 27 1/4 inches (69.9 x 69.9 cm)
Edition
edition 9/11
Credit Line
Solomon R. Guggenheim Museum, New York Purchased with funds contributed by the Photography Committee, 2002
Accession
2002.32
Copyright
Douglas Gordon
Artwork Type
The work of Douglas Gordon revolves around a constellation of dualities and dialectics. Mistaken identities, doubles, split personalities, and such opposites as good and evil, and self and other are thematized as inseparable. Gordon's films, video installations, photographs, and texts transform differences into uncanny, nuanced pairs.
Gordon approaches film as ready-made or found object, mining the potential collective memory that exists in cinematic fragments, and in the process, disclosing unseen or overlooked details and associations. His installation through a looking glass (1999) features the well-known scene from Martin Scorsese's 1976 film Taxi Driver in which Travis Bickle, played by Robert De Niro, asks, "You talkin' to me?" while gazing into a mirror. In Gordon's piece, the scene is projected onto dual screens placed on opposite walls of a gallery space. The original episode from the movie, filmed as a reflection in the mirror, is shown on one wall. The other screen displays the same episode with the image reversed, flipped left to right. The two facing images, which begin in sync, progressively fall out of step, echoing the character's loss of control and his mental breakdown. These discordant projected images seem to respond to one another, thus trapping the viewer in the crossfire. In its almost dizzying play of dualities, through a looking glass perfectly articulates the dialectical inversions, doublings, and repetitions that are the central concerns of Gordon's work.
Gordon also uses still photography to capture performative acts, as in Tattoo (for Reflection) (1997). In accordance with Gordon's instructions, the writer Oscar van den Boogaard had the word "guilty" tattooed in reverse on the back of his left shoulder; the tattoo can only be read via its reflection in a mirror. Gordon revels in the mixed messages found in the tattoo's various cultural associations, from its use as an identifying mark on prisoners to its current incarnation as a subculture status symbol. In true Gordonian, reflexive fashion—with the word legible on van den Boogaard's back only when reversed—the photograph becomes an index of an index.