Artist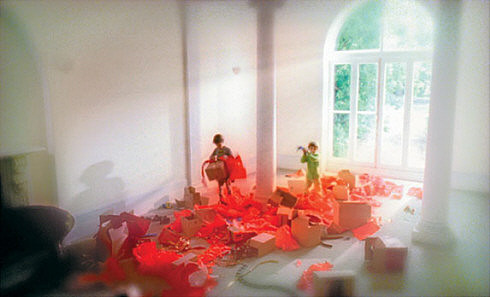 Maria Marshall
President Bill Clinton, Memphis, November 13, 1993
Artist
Maria Marshall b. 1966, Bombay, India
Title
President Bill Clinton, Memphis, November 13, 1993
Date
Medium
Color video projection, with sound, 20 min.
Dimensions
dimensions variable
Edition
edition 2/5
Credit Line
Solomon R. Guggenheim Museum, New York Purchased with funds contributed by the Young Collectors Council, 2002
Accession
2002.27
Copyright
2000 Maria Marshall. Used by permission.
Artwork Type
Maria Marshall's deftly produced videos can provoke mixed emotions. The London-based artist uses her own children as subjects for her work, digitally manipulating their actions to create psychologically harrowing scenarios. One notable piece from 1998 shows her two-year-old son taking a drag from a cigarette, an uneasy illusion created by the combination of footage of the child playing with a toy cigarette and images of adults smoking along with other computerized effects. In President Bill Clinton, Memphis, Tennessee, November 13, 1993 (2000), we listen to one of her boys read a speech given by the former president on that date espousing the disciplined loving parental structure and its positive impact on society. His too-young voice highlights the artificiality of the words while the video shows both boys unwrapping gloriously red-wrapped Christmas packages on a continuous, speeded-up loop. In this, like Marshall's other videos, the tension between innocence and encroaching adult reality is rendered with an anxious emotional clarity.
Meghan Dailey