Artist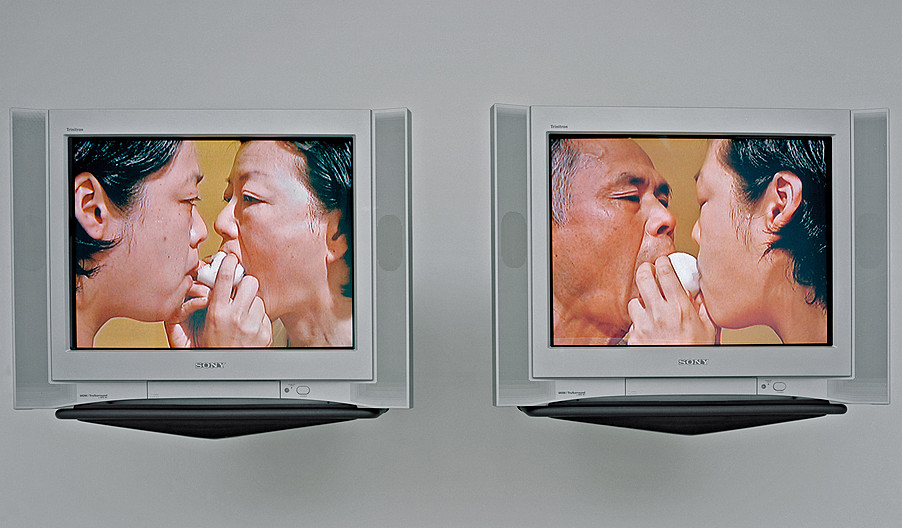 Patty Chang
In Love
Artist
Patty Chang b. 1972, San Francisco
Title
In Love
Date
Medium
Two-channel video installation, 3 min., 28 sec.
Dimensions
dimensions variable
Edition
edition 2/5
Credit Line
Solomon R. Guggenheim Museum, New York Purchased with funds contributed by Janet Karatz Dreisen, 2002
Accession
2002.24
Copyright
Patty Chang
Artwork Type
Exploring the darker side of femininity and socially constructed notions of desire, Patty Chang often takes a corporeal, visceral approach to performance, an art form that underlies her work in video and photography. Like female pioneers of performance in the 1970s, such as Marina Abramovic, Eleanor Antin, and Hannah Wilke, Chang uses her body to address issues of the objectification of women and their representation in art history and popular culture. Chang's work is often inflected with humor and often pushes commercial and popular female stereotypes to their extreme. In the photograph Melons (1998), for example, she uses cantaloupes as prosthetic breasts. How consumption and desire are inscribed upon the female body is addressed in Chang's art, but equally so is a woman's own desire of self.
Chang drinks her own image in Fountain (1999), the photographic series in which she, like Narcissus in the Greek myth, is transfixed by her own reflection in a pool of water, an act driven by both vanity and necessity. She explores the objectification and exoticization of Asian women in coy works such as Contortionist (2000), a photograph in which the artist gazes knowingly at the camera as she appears in the pose of a Chinese acrobat with legs resting on her own shoulders. Chang uses metaphor in works such as Losing Ground (2001), a video work that visually alludes to Andrew Wyeth's painting Christina's World (1948) and depicts Chang on a suburban lawn that is curiously destabilizing.
Much as Janine Antoni, Sally Mann, and Gillian Wearing have explored the sexuality and conflicts inherent to the parent-child relationship, Chang examines the territory of the primal, parental connection in her work In Love (2001). In this dual-channel video, two separate scenes of the artist with a parent are juxtaposed. Chang faces her mother and, in the adjacent frame, appears face–to–face with her father. Simultaneously both images show the artist's and respective parent's faces pressed together in what at first appears to be a deep kiss. Gradually it becomes evident that the video is running in reverse time, and that they share not a kiss but rather an onion from which they both eat. They bite into it slowly, pausing as they take turns offering it to each other, as if it suggests the proverbial, forbidden fruit. Parent and child swallow before they take additional bites, blinking hard to hold back tears from the onion's sharpness and pungency. However, in the video's reversal of time, the onion is reconstituted and the tears disappear—wholeness is thus regained.