Artist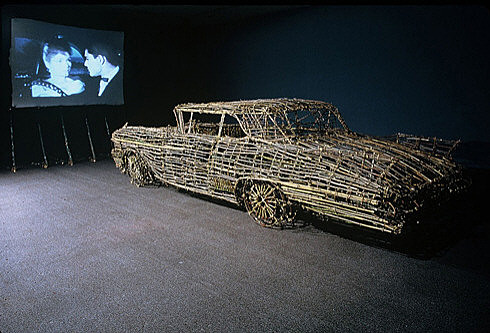 Roger Welch
Drive In: Second Feature
Artist
Roger Welch b. 1946, Westfield, New Jersey
Title
Drive In: Second Feature
Date
Medium
Installation of tree branch sculpture and 16 mm film projection, color, with sound, 18 min., 53 sec.
Dimensions
car: 60 x 80 x 216 inches (152.4 x 203.2 x 548.6 cm); screen: 159 x 108 x 70 inches (403.9 x 274.3 x 177.8 cm)
Credit Line
Solomon R. Guggenheim Museum, New York Anonymous Gift, 2002
Accession
2002.13
Copyright
Roger Welch
Artwork Type
Roger Welch's sculptural tableaux Drive In: Second Feature (1982) combines installation and video to explore a quintessential 1950s American experience: the drive-in movie theater. Welch's folksy, hand-crafted fabrication of a full-size 1958 Cadillac Eldorado Biarritz is juxtaposed against the characteristically aerodynamic design of the actual vehicle in chrome and steel. The car is parked facing a movie screen supported by a framework also consisting of branches, on which fragments of 1950s and 1960s films such as The Incredible Shrinking Man (1957) and The Time Machine (1960) are projected. The Second Feature continues themes explored in Welch's Drive-In (1980), an installation of a 1939 Rolls Royce Phantom III made from similar materials and positioned facing a movie screen showing 1950s movie trailers and soda and popcorn ads. In his Drive-In installations, Welch creates an extraordinary object out of ordinary materials, stripping from the Cadillac and the Rolls Royce their symbolic identities as icons of American freedom, British wealth, and Western industrialism. Encompassing Welch's consistent themes of popular culture, time, and memory, the car and movie screen in Drive In: Second Feature are relics of post–World War II America. Now a piece of collectible nostalgia, the Cadillac acts as a portal into a lost world.
Gillian Canavan