Artist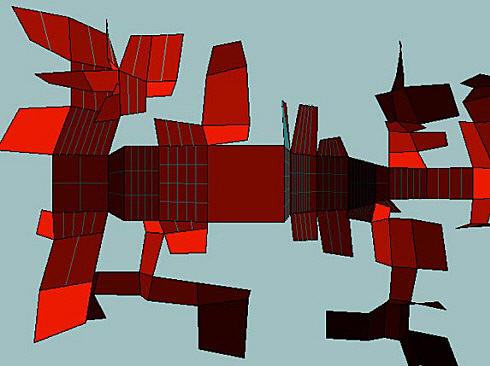 John F. Simon Jr.
Unfolding Object
Artist
John F. Simon Jr. b. 1963, Shreveport, Louisiana
Title
Unfolding Object
Date
Medium
Interactive networked code (Java applet with server database and servlets)
Dimensions
dimensions variable
Credit Line
Solomon R. Guggenheim Museum, New York
Accession
2002.16
Copyright
John F. Simon Jr.
Artwork Type
Movement
John F. Simon Jr. departs from the artistic tradition of creating one-of-a-kind images in favor of crafting one-of-a-kind computer programs, each of which quickly generates a wealth of images. Simon, who makes drawings on paper as well as computer-animated, wall-mounted panels and Web projects, draws inspiration from artists such as Paul Klee and Sol LeWitt, whose work alludes to or invokes rule-based, algorithm-like procedures. Simon is particularly interested in the way that the visual experiments of these artists can be automated and accelerated using digital technologies.
Simon describes his Internet-based work Unfolding Object as "an endless book that rewrites itself and whose use dictates its content." Originally a blank square visible on a Web page, the object unfolds in response to the virtual tugs of visitors from across the globe. As new facets branch off the original shape, each is patterned with a visual graphic that reflects the state of the object at the time the facet was created. For example, each leaf of this "book" that has been turned four times in the past is marked with four vertical lines; a horizontal line, meanwhile, stands for ten such unfoldings. As a shape that records the actions of users over a network, Unfolding Object recalls Simon's 1995–98 project Alter Stats, which translated hits from online visitors into a three-dimensional graph. Unfolding Object, however, is less a mathematical construct than a visual or even tactile one; it transforms clicks and pings into collaborative sculpture in virtual space.
Rather than isolating the viewer in a cul-de-sac of individual experience, Unfolding Object places the beholder in a communal, although virtual, space. For this is an object, and a space, shared by the users whose fingerprints are left on the pages they unfold. Facets that have already been unfolded darken with their distance from the central square, but a facet that has not yet been altered rewards its discoverer with a brightly colored figure untouched by previous markings. No matter how "dog-eared" Simon's pages may become with future interactions, his object will always hold the potential for fresh discoveries by many individual explorers.
Jon Ippolito