Artist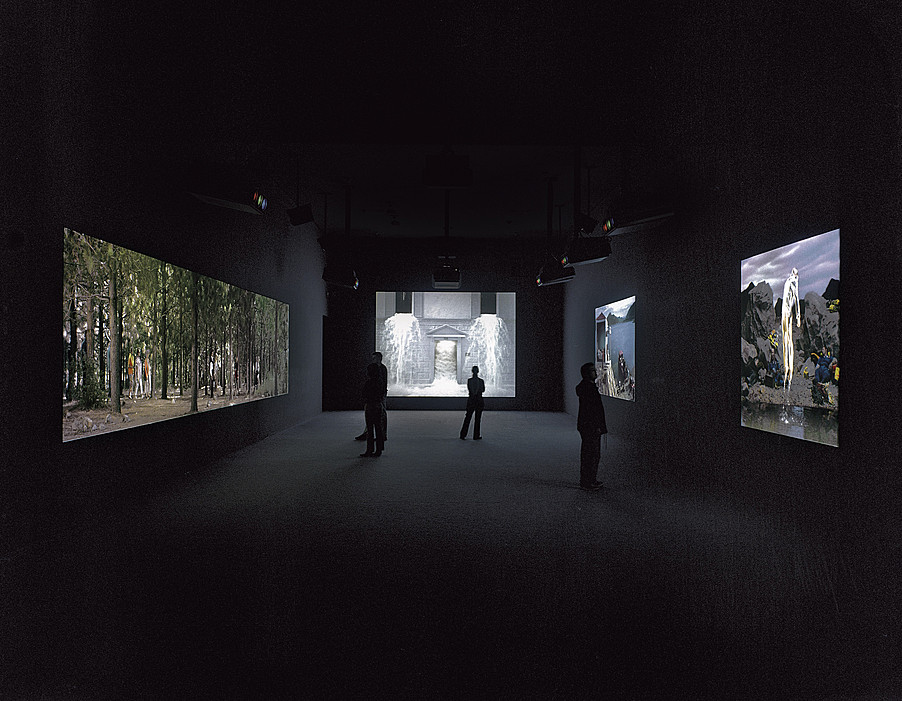 Bill Viola
Going Forth By Day
Artist
Bill Viola b. 1951, New York
Title
Going Forth By Day
Date
Medium
Five-part video and sound installation, color video projection with four channels of sound, 36 min.
Dimensions
dimensions variable
Edition
edition 1/2
Credit Line
Solomon R. Guggenheim Museum, New York Commissioned by Deutsche Bank AG in consultation with the Solomon R. Guggenheim Foundation for the Deutsche Guggenheim, Berlin
Accession
2005.116
Copyright
Bill Viola. Photo: Matthias Schormann
Artwork Type
Bill Viola is a pioneer in the use of the moving image. He employs video, film, and audio technology to reveal his interest in conceptual and perceptual issues, as well as to realize his desire to engage with the history of art. Having worked with video since the early 1970s, Viola says that he has "never lost faith in the image," and he has embraced new mediums while maintaining classical aesthetic values. Viola's imagery has an immediate, visceral impact, but his temporal stretching and slowing of sensory experience through the use of art and technology deepens his works as vehicles of spiritual meditation. Viola's installations and artworks invoke both primal archetypes and a mystical spirituality.

Going Forth By Day is an epic, five-part projection-based installation that addresses the complexity of human existence and explores cycles of birth, death, and rebirth. A different phase is embodied in each of the five looped projections with audio accompaniment. In one sequence, a community is shown anticipating and then fleeing from a deluge while another panel predicts a hopeful future as dawn illuminates a ravaged landscape. Each video is projected directly onto the wall of the exhibition space, just as the paint of a fresco adheres to the surface of a plaster wall. Viola acknowledges the influence of Giotto's fresco cycle in the Scrovegni Chapel in Padua, a Renaissance work that, like Viola's installation, occupies an architectural space through which the viewer may physically pass.