Artist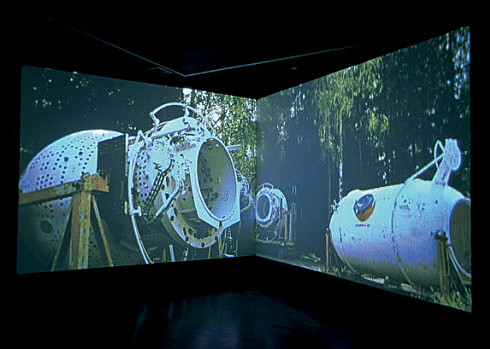 Jane and Louise Wilson
Star City
Artist
Jane and Louise Wilson b. 1967, Newcastle-upon-Tyne, UK
Title
Star City
Date
Medium
Four-channel video projection with sound, 8 min., 36 sec.
Dimensions
dimensions variable
Edition
edition 2/4
Credit Line
Solomon R. Guggenheim Museum, New York Gift, The Bohen Foundation, 2001
Accession
2001.296
Copyright
1999 Jane and Louise Wilson. Photo: Dave Morgan/courtesy Lisson Gallery, London
Artwork Type
Twins who have collaborated since the early 1990s, Jane and Louise Wilson use film to examine sites of authority and secrecy, which evoke highly charged associations. They are concerned as much with the psychological impact of architecture as with its physical aspects. To film Stasi City (1997), they gained access to the former East German secret police headquarters in Berlin. Gamma (1997) was made at Greenham Common, a decommissioned American military base in Berkshire, England, where nuclear weapons were stored. In these films, which are shown as large-scale projections, the camera pans across eerie, abandoned offices, equipment, bunkers, and even empty missile silos. Occasionally, the Wilsons themselves appear as trespassers in these previously forbidden territories. Each film is comprised of two, three, or four different projections and are shown on multiple screens that face each other in a darkened gallery, completely absorbing the viewer in their locations' unsettling sense of claustrophobic emptiness.
In Star City (2000), the Wilsons venture into another chapter of the Cold War: the space race between the Soviet Union and the United States. Though referenced obliquely, this history is unmistakably present in the piece, which was filmed at a cosmonaut training facility outside of Moscow. We see space capsules, derelict launchpads, control rooms, and rows of neatly stacked space suits and helmets, all accompanied by a sound track of clanging machinery, roaring fans, and a constant ambient drone. Projected onto four screens, the scenes shift subtly in pace and orientation, from close-up to distant shots and from vertical to horizontal. (Such contrasts are typical in the Wilsons' formal repertoire.) The underlying narrative is a tale of utopian idealism, science, and Communism gone awry, yielding only unfulfilled expectations and a program that languishes in economic disarray.