Artist
Browse By
Architecture
Exhibitions
Diana Thater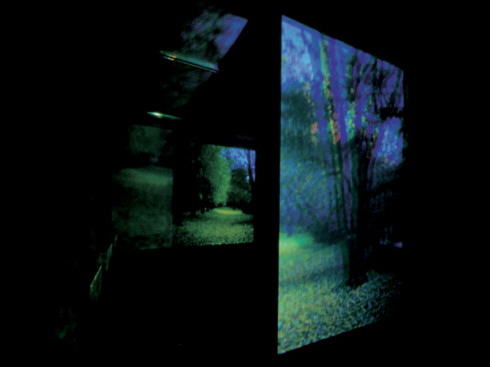 Diana Thater's installations are hybrids of video, sculpture, and architecture that map cinematic surface onto three-dimensional space. She scales her video projections to the architecture of particular sites and frequently couples them with other videos screened on televisions that are placed sculpturally in the space of the gallery, often on the floor. Her work can be seen as a continuation of first-generation video artists such as Dan Graham and Bruce Nauman, who considered in their work the viewer's movement through space and time and video's potential as an antirepresentational medium. In Thater's case, the viewer's position remains central, but representation and narrative inform her videos, which are often of animals and nature.
In the first of the eight separate installations that compose The best animals are the flat animals—the best space is the deep space (1998), a video monitor sits on the floor in front of a freestanding wall, itself in front of a real wall of the gallery. The monitor, serving as a "foreground," displays text, while footage of a zebra performing tricks is projected onto the "mid-ground" of the freestanding wall and close-ups of the zebra's stripes are projected onto the gallery wall in the "background." The piece is a playful examination of the limitations of representation. Each element attempts, and fails, to account for a real animal: a detail (the stripes) stands in for the whole, culture (the trained zebra) for nature, language for material reality. The monitor and walls, when viewed frontally, would seem to mimic a unified pictorial space; yet when viewed from the side, the disparate elements of the installation are pronounced, and the freestanding wall accentuates the flatness and immateriality of the zebra's projected image. Thater's inspiration for this piece was the sequence in Lewis Carroll's Alice in Wonderland in which Alice encounters three-dimensional animals that morph into two-dimensional playing cards.
Much of Thater's work engages with how the natural world is often experienced by people: flattened by the camera and at a great spatial and temporal remove. Late and Soon, Occident Trotting (1993, titled after Eadweard Muybridge's nineteenth-century photographs of a horse in motion) explores the landscape as one experiences it in the body and as a memory. Here, a projector is set out of register so that the image is broken into the three primary colors of video: red, blue, and green. Three additional projectors, each with only one lens of either red, blue, or green, are installed in an attempt to reconstruct the same image that has been broken down by the single projector. The imagery plays forward and then backward, further disorienting the viewer. Thater's interest is not in the stationary observer who reconstructs the horse's movement from the isolated frozen moments, but rather in the viewer who moves through a landscape in which nothing is stationary.